Utah to Seize Own Land From Government, Challenge Federal Dominance of Western states
By Valerie Richardson | The Washington Times
'Transfer of Public Lands Act' demands Washington relinquish 31.2 million acres by Dec. 31
In three weeks, Utah intends to seize control of 31.2 million acres of its own land now under the control of the federal government. At least, that's the plan.
In an unprecedented challenge to federal dominance of Western state lands, Utah Gov. Gary Herbert in 2012 signed the "Transfer of Public Lands Act," which demands that Washington relinquish its hold on the land, which represents more than half of the state's 54.3 million acres, by Dec. 31.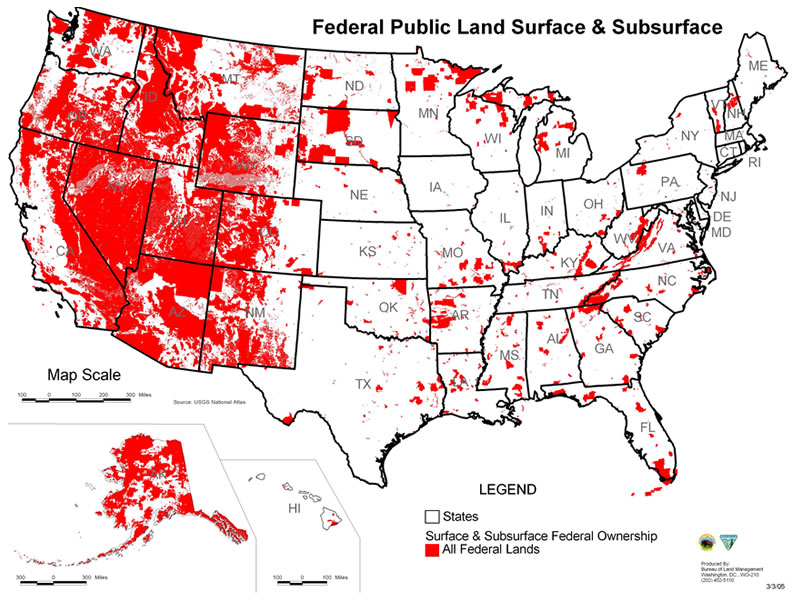 So far, however, the federal government hasn't given any indication that it plans to cooperate. Still, state Rep. Ken Ivory, who sponsored the legislation, isn't deterred.
"That's what you do any time you're negotiating with a partner. You set a date," said Mr. Ivory. "Unfortunately, our federal partner has decided they don't want to negotiate in good faith. So we'll move forward with the four-step plan that the governor laid out."
In other words, there won't be any escorting of federal officials by state troopers to the eastern border. Instead, he said, state officials will proceed with a program of education, negotiation, legislation and litigation.
From BigThink:
The United States government has direct ownership of almost 650 million acres of land (2.63 million square kilometers) – nearly 30% of its total territory. These federal lands are used as military bases or testing grounds, nature parks and reserves and indian reservations, or are leased to the private sector for commercial exploitation (e.g. forestry, mining, agriculture). They are managed by different administrations, such as the Bureau of Land Management, the US Forest Service, the US Fish and Wildlife Service, the National Park Service, the Bureau of Indian Affairs, the US Department of Defense, the US Army Corps of Engineers, the US Bureau of Reclamation or the Tennessee Valley Authority.