Linda Moulton Howe: Boom Mystery — More Frequent and Intense?
By Linda Moulton Howe | Earthfiles
Emmy Award-winning Reporter Linda Moulton Howe Investigates the Boom Mystery
(Part 8 of 8. Go to Parts 1 – 7.)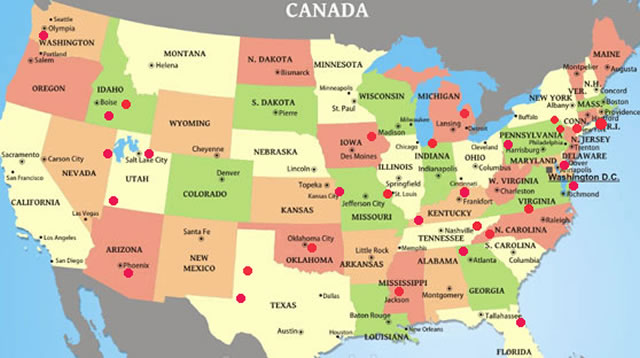 Akron, Michigan; Wentzville, Missouri, near St. Louis; Nappanee and South Bend, Indiana; Danville, Virginia; Luzerne County, Herrick Center and Ellwood City, Pennsylvania; Coventry, West Warwick and Warwick, Rhode Island; Hamblen County, Tennessee; Hailey and Jerome, Idaho; Norman, Oklahoma; Lubbock and Odessa, Texas; east of Roswell, New Mexico; Cedar Falls, Iowa; Plainfield, Connecticut; Kansas City and Plattsburg, Missouri; Newark, Delaware; Mesa, Arizona; Jackson, Mississippi; Asheville, North Carolina; St. Johns County, Florida; Pilot Valley, Nevada; Salisbury, Maryland; Chehalis, Washington; Flintstone, Georgia; St. George, Utah; Paducah and northern Kentucky — all between January 1 and February 8, 2015.
"The booms are becoming more frequent and more powerful. My animals are terrified by these booms." – Resident in Pilot Valley, Nevada
"Booms here in southern Idaho are usually heard and felt at night. …To me it feels like standing next to the P.A at a Grateful Dead concert when Phil Lesh plays his low strings on his bass guitar! …And the house vibrates! The next day we hear from the Boise State University Geologic Department that always tells us there were NO earthquakes!' – Resident of Jerome, Idaho
February 9, 2015 Albuquerque, New Mexico – The first week of February 2015 has continued the January trend of increasing number of boom reports. Now people in at least 25 states in only five weeks have reported loud, often repeating, boom phenomena to local emergency authorities, to social media, local news media and Earthfiles. What is producing all these explosive, house-rattling boom sounds that leave authorities searching for causes, but not finding any answers? And why is the federal government's Dept. of Homeland Security completely silent?
1)
February 8, 2015, Paducah, Kentucky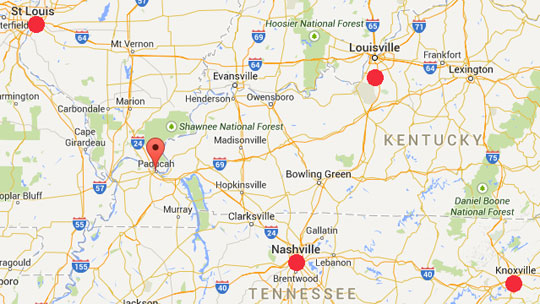 Paducah, Kentucky, is in a cluster of boom sites since 2011, that include Fort Knox, Kentucky, south of Louisville; the St. Louis, Missouri region; and Nashville and Knoxville, Tennessee.
To: earthfiles@earthfiles.com
Re: Loud Booms in 5 Counties Around Paducah, KY
Date: February 9, 2015
I live in Paducah, KY with my fiancee. Last night, 02/08/2015 at around 8:30pm CST, we heard what could only be described as a very loud explosion. Then a few milliseconds after the first, a second one was heard and felt as this one actually made the apartment complex that we live in tremble.
Apparently similar noises being heard between the hours of 8pm – 3:30am and it covered as much as five counties in the surrounding area.
Earthfiles confirmed with WPSD-TV that there were loud booms the night of February 8, 2015, in the Paducah, Kentucky, area. The news room checked with several different authorities ranging from military bases to weather and reported in their local newscast that "there is no explanation for the booms."
February 8, 2015 News Script:

WE'VE GOTTEN A LOT OF PHONE CALLS AND FACEBOOK POSTS AGAIN FROM VIEWERS ABOUT LOUD BOOMS IN THE AREA THIS WEEKEND.
MCCRACKEN COUNTY SHERIFF'S DEPUTY TRENT HARDIN SAYS THEY ALSO GOT SEVERAL CALLS ABOUT THE BOOMS, SPECIFICALLY IN REIDLAND AND NEAR THE GRAVES COUNTY LINE.

THEIR INVESTIGATION DIDN'T TURN UP ANYTHING OF CONCERN.
DEPUTY HARDIN SAYS THERE'S NO EVIDENCE POINTING TO TANNERITE – A TYPE OF EXPLOSIVE USED FOR TARGET PRACTICE.
SO FAR, THERE IS NO EXPLANATION FOR THE BOOMS
2)
February 8, 2015, Plattsburg, Missouri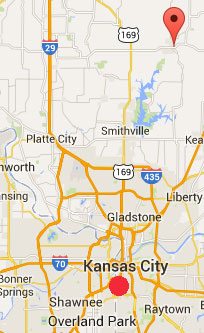 Plattsburg, Missouri, is about 40 miles northeast of Kansas City, both regions of repeated loud, mysterious booms.
Plattsburg Fire Protection District Facebook: "There have been numerous reports of back to back booms early this morning. Reports have ranged from Trimble to Plattsburg to Cowgill. Plattsburg Fire units also heard the booms. However the source remains unknown at this time."
3)
To: earthfiles@earthfiles.com
Re: Strange Booms outside Asheville, NC
Date: February 7, 2015


Asheville, North Carolina is in the Great Smoky Mountains 116 miles east of Knoxville, Tennessee, another region that has had boom reports. Charlotte to the southeast of Asheville is North Carolina's largest city.
Linda,
I know that you reported on strange booms around the country in the past and more recently on Coast to Coast. I just wanted to pass along an update from the western part of Buncombe County NC. I live about 8 miles outside of Asheville, NC and between 4:50 and 5:30 PM this evening 2/7/15 I heard 3 separate booms that were very startling. I contacted the local sheriffs office and they said I was the first to report in on the sounds. Very strange, thought you might like to know.
4)
February 6, 2015, St. Johns County, Florida's Ponte Vedra Beach Region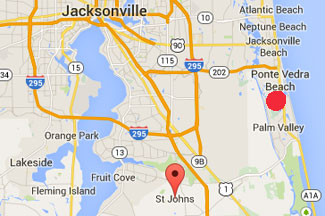 The St. Johns County Sheriff's Office received about 50 calls before 11 a.m., Friday, February 6, 2015, many from the Ponte Vedra Beach area southeast of Jacksonville. The calls also came in from the Nocatee, Palencia, Fruit Cove and Durbin Crossing areas.
Huge explosive booms were reported February 6, 2015, throughout St. Johns County, Florida. Military bases said not theirs. More mysterious boom reports elsewhere.


Click here for News4Jax, Jacksonville, Florida.
5)
To: earthfiles@earthfiles.com
Re: Booms and High Strangeness, Magic Valley, Idaho
Date: Feb. 6, 2015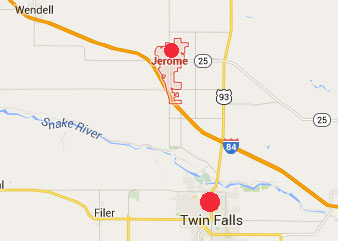 Jerome, Idaho, is 118 miles southeast of Boise and only 13 miles north of Twin Falls in the Magic Valley of southern Idaho.
Dear Ms. Howe, I live in the small town of Jerome, Idaho, about 10 miles north, across the Snake River Canyon, from Twin Falls. I was very intrigued with what you had to say about the "Big Booms" the other night on Coast to Coast Am.
I live in the Magic Valley in South Central Idaho. It has quite a few small towns and one, what we call a city (Twin Falls, Idaho), is scattered across the lower Snake River Plain. The Magic Valley is about 24,000 square miles and is the bread basket and the dairy capital of our state. Here I have heard BIG Booms and Rumbles on a regular basis. After which everyone calls in to the local police, TV stations and radio stations. Booms here in southern Idaho are usually heard and felt at night. The next day we hear from the Boise State University Geologic Department that always tells us there were NO earthquakes!
We also have the Mountain Home Air Force Base about 45 miles away and they always say they had NO activity during that time and DO NOT break the sonic barrier and have nothing to do with what we hear and feel here!
It is a deep and low noise and it will rumble over the entire valley. To me it feels like standing next to the P.A at a Grateful Dead concert when Phil Lesh plays his low strings on his bass guitar! Right in the gut, and the house doesn't rack and twist or even shakes, it VIBRATES!!
I have never recorded the boomings, nor do I know anyone who has, BUT I will investigate and find out if it has been.
6)
To: earthfiles@earthfiles.com
Re: Booms in Lewis County, Washington
Date: February 5, 2015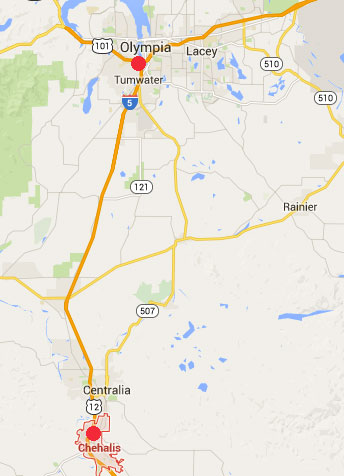 Chehalis, Washington, is 30 miles south of Olympia.
Just to let you know there's been a series of booms over Lewis County, Washington state today (south of Seattle and near Mt. Rainier). I went online to possibly see if there was any explanation and it led me to your Earthfiles.com website. Chehalis is the main area where booms were heard, but also reports east of there. There is a Facebook feed called Lewis County Sirens where people are posting about it. You might want to check it out.
I also saw various military planes that we don't usually see and they ended up headed towards the Mt. Saint Helens area. I'm sure there's probably just some logical explanation like the military is practicing, but it's really weird. It woke me up this morning. Several other people have the same reports of waking up to loud booming this morning and their dogs growling and barking. We had the same issue.
7)
To: earthfiles@earthfiles.com
Re: Booms in St. George, Utah
Date: February 5, 2015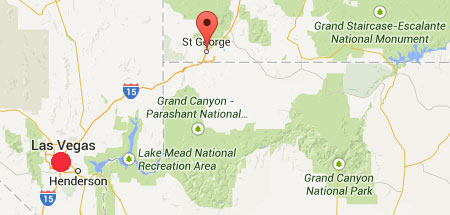 St. George, Utah, is 120 miles northeast of Las Vegas, Nevada. The highly classified Area 51 in the Nellis AFB complex is 83 miles northwest of Las Vegas.
More booming noises @ about midnight tonight here in St George Utah. Rattled the windows of the house.
An earlier house-shaking boom reported Jan. 25, Kimball Junction, Utah:
Incident: January 25th 9:30pm; Kimball Jct , Utah
Last night I felt a fast loud rumble and immediately thought it was an earthquake. It was brief…maybe 2 or 3 seconds and shook the house and rattled the windows.
I checked the earthquake sites and saw no activity near us.
I was on Facebook shortly afterwards and one of my friends nearby asked if anyone felt an earthquake. About 6 people responded that they had, all within about 3 miles of me.
I live at Kimball Junction near Park City, Utah and people reported the noise all the way to Parley's Summit which is about 3 miles west of me.
One of the girls characterized it as feeling like a huge gust of wind that slammed briefly into their house, but there was no wind.
8)
To: earthfiles@earthfiles.com
Loud boom in Odessa, Texas
February 3, 2015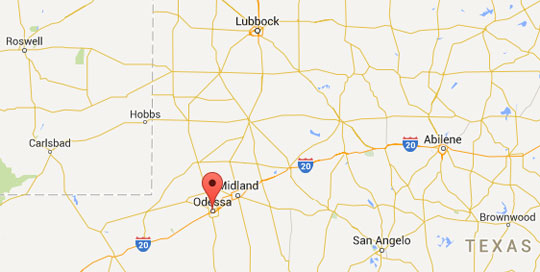 At 1615 central time on Feb. 3, 2015 a large boom was heard in Odessa, TX. Not only was the boom heard by all personnel in our work area, but all felt it. The boom shook vehicles, the ground, and one could feel it in one's core.
9)
To: earthfiles@earthfiles.com
Re: Loud Boom in Eastern Wicomico County, Maryland
Date: February 2, 2015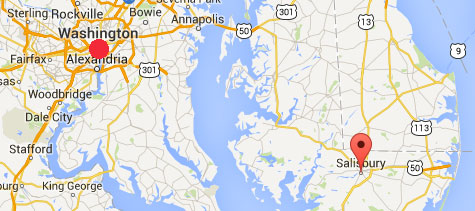 Salisbury, Maryland, is 115 miles southeast of Washington, D. C.
During the evening of February 2, around 7 p.m. I heard an unusual sound I can only describe as a very loud explosion or perhaps a sonic boom. The source seemed distant, but my house shook and my windows rattled. I had never heard anything like it before. On the Salisbury, Wicomico County First Alert Facebook site, there are a string of comments about the sound.
10)
To: earthfiles@earthfiles.com
Re: Recent boom report, Mesa, AZ
Date: February 2, 2015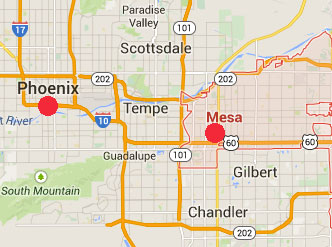 Hello Linda,
I listened to your interview on Coast to Coast about mysterious boom reports in 13 states, but Arizona was not one of them. In the last week or so, I have heard them twice — both in the Usery Pass area in east Mesa, Arizona. I did a Google search and found quite a few news reports of booms all over the Phoenix area in the last few years. The Verde valley was one area with numerous reports and in one of my incidents, that's precisely where the booms seemed to be coming from. Verde Valley is north of Usery Pass, where the Verde River joins the Salt River. As I remember it, both incidents had multiple booms, at least two. It sounded like demolition, or military ordnance.
11)
To: earthfiles@earthfiles.com
Re: No clear answers after 'mysterious booms' on Feb. 1 and in late December.
Date: Kansas City, MO, news Feb. 3-4. Also see 13) January 31 report below.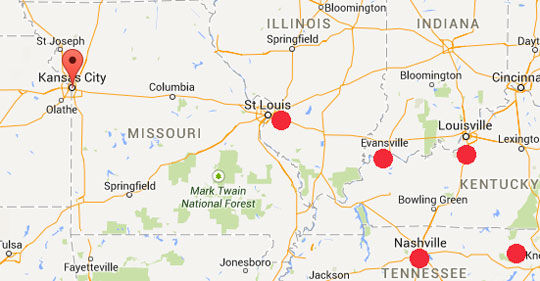 Kansas City and Wentzville, Missouri, boom reports are amid the other cluster of unexplained sounds between 2011 and 2015 from St. Louis to Evansville, Indiana, Fort Knox, Paducah and northern Kentucky, and Nashville and Knoxville, Tennessee.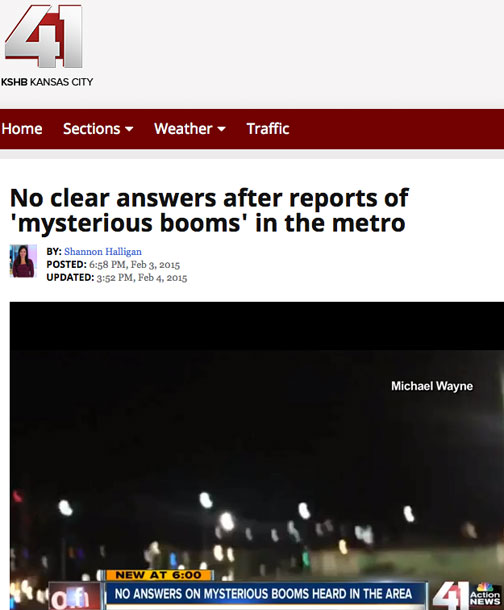 Click to KSHB-TV to hear Dec. 2014 mysterious boom sounds.
February 3-4, 2015 KANSAS CITY, Mo. – Loud booms in the Kansas City metro on February 1, 2015, were reported to media and authorities. In a December 2014 YouTube video when there were other repeating booms (above video), you can hear what sounds like explosions.
On Sunday afternoon, February 1, 2015, Jimmy Brewer of Independence, Mo., heard a similar loud boom sound. He told KSHB 41 Action News: "I helped sell fireworks during the summertime, so to me it sounded like a pretty substantial Class B firework which is a lot bigger than what you sell at a fireworks stand."

KSHB-TV Transcript: "He was out jogging in Kansas City near the Independence border, but he couldn't tell where the noise came from. Brewer said he didn't think it was a sonic boom either.
"No, I've heard a sonic boom before when I was in the military but this was still pretty loud," he said.
KSHB News called Whiteman Air Force Base to see if they ran any training operations, but they didn't have any aircraft flying this past weekend.
In another YouTube video a locomotive horn goes off before a long boom. There are several train lines that run near the location where Brewer heard the noise, but he said that's not where it came from.
"I just got hired by Union Pacific and I've heard trains, so I don't believe it would have been a train," Brewer said.
KSHB went to UMKC Assistant Physics Professor Paul Rulis. He didn't know the source of the noise, but said there is a way to determine its location.
"Once you have the equations and you have the recordings, you'd be able to figure out where that sound came from even if it wasn't inside the triangle made by those points," Rulis said.
Another possibility is it was a "frost quake." It's rare but it happens when there's a rapid drop in temperature. That causes an expansion of frozen water creating a sort of mini explosion.
We're still investigating the source of the booms. If you notice one, let us know where you heard it and when."
12)
To: earthfiles@earthfiles.com
Re: January 6th Booms, Newark, Delaware
Date: February 4, 2015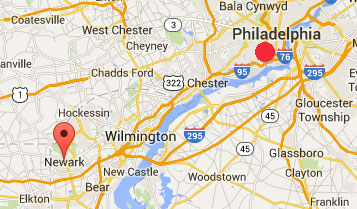 Newark, Delaware is 43 miles southwest of Philadelphia, Pennsylvania.
Dear Linda,

I just listened to your report on Dreamland and I was reminded of something experienced here in Newark, Delaware, on January 6, 2015. It was snowing, but not extremely cold — somewhere around 28 degrees F. It had actually warmed up a little to snow and was forecast to get cold after the snow passed, so there was no quick temperature change in either direction during the snow. It was during the day from late morning to early afternoon, but I am not certain of the exact time.

I was sitting at my computer, beside a large window. There was no flash at all like lightning. It happened only once, but the house shook (vibrated) from a loud, multi-toned, boom. By multi-toned, I mean it had more than one frequency or "note" all simultaneously, almost like a 2-3 note "chord". Then if you would combine that with a vibratory booming of rumbling thunder that would be close.….or better yet — combine 2-3 low pitch tones with the grand finale of a fireworks show and there you'd have it for about 10 seconds +/-. It seemed longer at the time, because it was so strange, but I am saying 10 seconds looking back at it as being more accurate.

The really weird thing was how long it continued. It was not a boom and gone. This lasted for about 10 seconds!! It sounded like it was above me and perhaps a little farther north in the sky, but that could be because the window faces the north and sound would travel through it louder than the brick walls. My phone rang moments later and it was my brother who lives 3 miles east of me. His words were; "Did you hear that?" I said I did and he said "What the hell was it?" …..neither of us knew. We have both heard "snow quakes" or "snow thunder" before. This was not that, this was very strange.
13)
To: earthfiles@earthfiles.com
Re: Big Booms, Kansas City, Missouri
Date: January 31, 2015
Linda, today around 5:30 PM CST, the central and west parts of Missouri heard and felt loud booms. From east of Kansas City to inside Kansas, this was heard. 911 calls lit up. Facebook and other social media lit up. I live on a farm in Lafayette County, Missouri. I heard it, but our friends felt it. I can't believe this happened here as I just heard you on Coast to Coast AM. Something is going on, but what the hell is it? Thank you for your work.
14)
To: earthfiles@earthfiles.com
Re: Local Booms in Ellwood City, PA
Date: January 31, 2015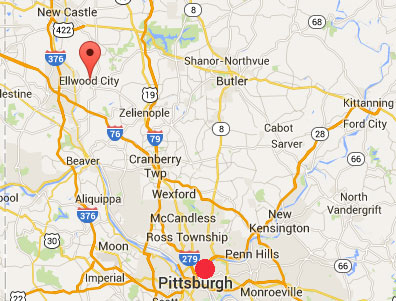 Ellwood City, Pennsylvania, is 30 miles northwest of Pittsburgh.
Linda,
My name is Jeff. I live in Ellwood City, PA. Its located 60 miles north of Pittsburgh. I heard you on Coast to Coast on Friday 1/30/15. We have also been experiencing weird booms that SHAKE our home. After a loud boom event, Facebook will light up from posts around the area from people wanting to know what it was.
This all started about a year ago (2014) and in the last month of January 2015, we heard three different loud boom events. The one I remember most was around 10 PM on a Friday in mid-December 2014. I was asleep on the recliner and my 14-year-old son was playing a video game. The boom woke me, and the look on my son's face was complete terror! He said he thought the windows were going to explode.
I would explain the sound as a cannon, but the sound hits the house on all sides. Like the loudest thunder boom you could imagine. People I have talked to have also experienced this in other parts of western, and central PA. Hope this information helps you.
15)
To: earthfiles@earthfiles.com
Re: Loud Booms in Flintstone, Northern Georgia
Date: January 31, 2015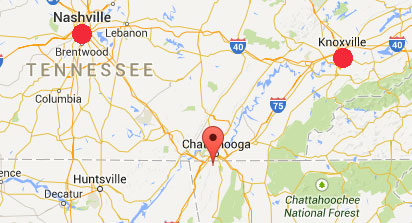 Flintstone, Georgia (Google marker) is just over the Tennessee border making a triangular relationship with Nashville and Knoxville, Tennessee, two areas noted for loud boom reports since 2011.
Linda,
A loud boom shaking our mother's very sturdy house occurred at about 6:30 PM EST, January 11, 2015, in Flintstone, Georgia, 1.5 miles south of Chattanooga, TN.
On January 26, two boom occurred about 2 miles south of there, also in Flintstone, at 5:58 and 6:01 PM Eastern time. I found no news reports on this or evidence of earthquakes on the USGS site.
The discussion on Facebook described the booms as sounding like "explosions," "something blown up," or "thunder," and said houses shook or windows rattled. Another FB participant said she'd heard such a boom "the other day," but did not state the date.
I am sorry I can't tell you more. Thank you for all your work.
16)
To: earthfiles@earthfiles.com
Re: Booms in Pilot Peak, Northeastern Elko County, Nevada
Date: January 30, 2015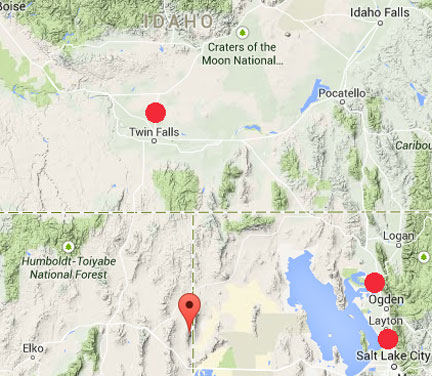 Pilot Peak, Nevada, is about 250 miles straight west of Provo, Utah, near Salt Lake City, where there have been repeated cycles of loud, unexplained booms and military helicopters showing up where mysterious booms have occurred since 2011. North of Pilot Peak is Twin Falls and Jerome, Idaho, in the Magic Valley where many booms have been reported.
Hi, Linda,
I live in Pilot Valley located at the base of Pilot Peak in Elko County, Nevada. I listened to you last night on Coast to Coast and your interview with Todd Seelye and I quote from him,

"Just suddenly out of the blue came this enormous, deep boom.
It shook the windows, shook the whole house, and the floor.
It was notable for its power and its resonance."
– Todd Seelye, Cedar Falls, Iowa, January 12, 2015

Todd took the words right out of my mouth!

Pilot Valley is located in rural northeastern NV by the Utah Border. We have had these booms for sometime now. The first time it happened, I thought it was a sonic boom as we are close to the Utah Test and Training Range. However, the booms are becoming more frequent and more powerful. My animals are terrified by these booms and during the second week of January 2015 they occurred 4 times that I know about. The strongest one happened on January 8, 2015. On that day I was outside when suddenly BOOM BOOM two booms back to back.

Those booms startled me so bad that I dropped to the ground. I could feel the shock wave hit me as to say I felt like it vibrated all through my body. I have heard many Sonic Booms in my life time, but this was something different than I have ever encountered before.

My one dog refused to go outside unless I or my Son was with him and he stayed right by our sides. Only now has he started back to somewhat of his routine, but he is not the same. He starts to cower down even when a plane flies overhead.

We that live in Pilot Valley are somewhat accustomed to strange happenings out here. We attribute this to our close proximity to the bombing range and Hill Air Force Base in Utah, but I have never in my 55 years experienced anything like these booms.

It astounds me that other parts of the U. S. are reporting these same loud booms. I hope and pray that you will be able to one day identify this very disturbing activity."
(Return to Parts 1 – 7.)
If viewers have any information about the persistent boom phenomenon, please email earthfiles@earthfiles.com. All requests for confidentiality are honored.