The Red Cross CEO Has Been Serially Misleading About Where Donors' Dollars Are Going
By Jesse Eisinger and Justin Elliott | ProPublica, and Laura Sullivan | NPR
This story was co-produced with NPR.
The American Red Cross regularly touts how responsible it is with donors' money. "We're very proud of the fact that 91 cents of every dollar that's donated goes to our services," Red Cross CEO Gail McGovern said in a speech in Baltimore last year. "That's world class, obviously."
McGovern has often repeated that figure, which has also appeared on the charity's website. "I'm really proud" that overhead expenses are so low, she told a Cleveland audience in June.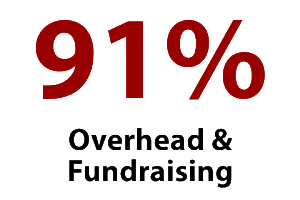 The problem with that number: It isn't true.
After inquiries by ProPublica and NPR, the Red Cross removed the statement from its website. The Red Cross said the claim was not "as clear as it could have been, and we are clarifying the language."
The Red Cross declined repeated requests to say the actual percentage of donor dollars going to humanitarian services.
But the charity's own financial statements show that overhead expenses are significantly more than what McGovern and other Red Cross officials have claimed.
In recent years, the Red Cross' fundraising expenses alone have been as high as 26 cents of every donated dollar, nearly three times the nine cents in overhead claimed by McGovern. In the past five years, fundraising expenses have averaged 17 cents per donated dollar.
But even that understates matters. Once donated dollars are in Red Cross hands, the charity spends additional money on "management and general" expenses, which includes things like back office accounting. That means the portion of donated dollars going to overhead is even higher.
Just how high is impossible to know because the Red Cross doesn't break down its spending on overhead and declined ProPublica and NPR's request to do so.
The difference between the real number and the one the Red Cross has been repeating "would be very stark," says Daniel Borochoff of the watchdog group CharityWatch. "They don't want to be embarrassed."
Charities are closely scrutinized for how much they spend on overhead rather than programs that serve the public. Studies show that donors prefer to give money to organizations that spend more of their money on services. While there is a debate about the usefulness of overhead spending as a measure of performance, charities regularly celebrate having low figures.
The 17 percent the Red Cross has spent on average for fundraising expenses is below the ceilings set by nonprofit watchdogs. The Better Business Bureau Wise Giving Alliance, for example, says that fundraising expenses should not exceed 35 percent of related contributions.
McGovern, a former Harvard Business School marketing professor, has faced criticism within the Red Cross for a focus on branding over delivery of services. ProPublica and NPR recently reported that Red Cross officials on the ground after Superstorm Sandy saw disaster relief resources diverted for public relations purposes. The charity has also been facing deficits and layoffs. As a result, McGovern has been pushing to increase the Red Cross' annual fundraising.
The incorrect 91-cent figure has been used by McGovern in at least four speeches and written statements since last year, and other Red Cross officials have used it repeatedly to potential donors around the country.
After being contacted by ProPublica and NPR, the charity changed the wording on its website to another formulation it frequently uses: that 91 cents of every dollar the charity "spends" goes to humanitarian services.
But that too is misleading to donors.