West Waging a 'CNN war' in Syria as Isil Makes Gains in Iraq
By Sofia Barbarani, Erbil and Richard Spencer, Middle East Correspondent
While American air strikes on the Syrian border town of Kobane play out in front of the world's media, Isil has made territorial gains in Iraq
On the barren wastes of Mount Sinjar, the Yazidis are once more surrounded and fighting for their lives.
"We saw Isil, there are daily clashes with Isil. Today and yesterday there was heavy fighting," said one stranded Yazidi man, Dre'i Shamo, last week. "The situation is very tragic and critical."
Further south, the advance of the jihadists of Islamic State of Iraq and the Levant on Baghdad continues, slower than before but still with no sign of a reversal of fortune. Another district fell last week, after a major military base the week before, while scores more innocent civilians have died in a rise in bombings in the city itself.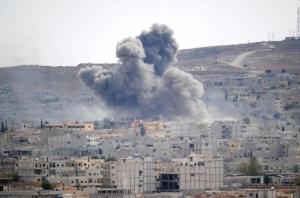 The jihadists have also reached Ramadi, the capital of Anbar province and the last major city in western Iraq not in Isil's hands.
The world's attention has been focused on the medium-sized Kurdish town of Kobane, on the Syria-Turkey border, whose accessibility has provided countless opportunities for telegenic news coverage of American air strikes, which have multiplied in size and number. But Kobane is a secondary focus of the war that has been waging in Syria for more than three years; and that war is itself supposed to be secondary in strategic heft for America and its allies, including Britain.
They have deemed Iraq the first target of the fight against Isil. Yet the number of air strikes in supposedly less significant Syria has now reached double that in Iraq, as America and its allies seek to bolster Kobane's defences.
Analysts and some Iraqis now wonder whether President Barack Obama's declared strategy in the Middle East has been abandoned in favour of pursuing a short-term agenda dictated by the news agenda: that the "CNN factor was at play", as Ben Barry, a former British Army brigadier, put it after compiling a detailed analysis of the military situation in Iraq.
Isil may even have drawn the West into a trap – pouring second-grade but eager foreign recruits into the battle for Kobane, while pursuing their more important goals next door, he said.
"Kobane is right against the border," he told The Telegraph. "It may be that Isil deliberately took the decision to attack there to draw US air power away from Anbar."

"Kobane is right against the border," he told The Telegraph. "It may be that Isil deliberately took the decision to attack there to draw US air power away from Anbar."