Stunning Photos Of Record Snow Covering Upstate New York: 100 Total Inches Of Snow Expected
By Tyler Durden
As previously reported, the anticipated Polar Vortex 2.0 has struck, pushing temperatures in all 50 states to below freezing, while heavy snow prompted a state of emergency in western New York and contributed to the deaths of four people. According to Reuters, it was the coldest November morning across the country since 1976, according to Weather Bell Analytics, a meteorologist consulting firm. It remains to be seen how many GDP percentage points were wiped out as a result, unless of course, this time it will be different from last winter. Typically, such cold is not seen until late December through February.
But it was the situation in upstate New York, especially around Buffalo and parts of Erie County, where things got most dire and where 60 inches (1.5 m) of snow accumulated, with more falling, said Steven Welch of the National Weather Service near Buffalo. Snow fell at a rate of up to five inches (13 cm) an hour and some areas approached the U.S. record for 24-hour snowfall totals of 76 inches, or over 6 feet, the NWS said.
The record cumulative snowfall through Wednesday is shown in the image below: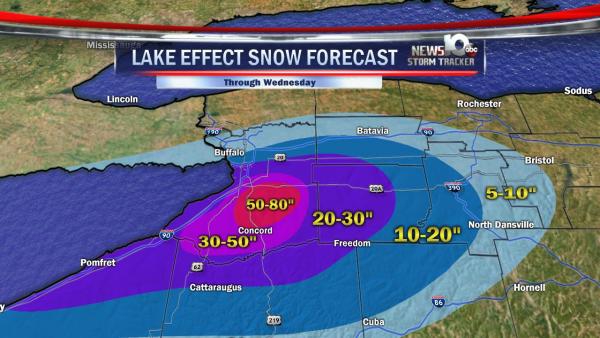 New York Governor Andrew Cuomo declared a state of emergency for 10 counties. National Guard troops were deployed to help residents cope with the storm.
The good news, according to CBS, is that the Tuesday storm is fading away: deputy Erie County Executive Rich Tobe told reporters Wednesday morning that the storm had begun to move toward Buffalo's northern suburbs, and was expected to leave 2-5 more inches of snow in its wake. But he said the break would be short-lived for the hard-hit southern Buffalo suburbs, where forecasters were calling for more snow on Thursday, as much as three feet more, for a total of up to 100 inches over four days – a year's worth for the region. Still, there should be an 18 hour window to clear roads, he said.
And then it is all set to flip again, with the current freezing period expected to be followed by a "dramatic warming trend this weekend," raising the possibility of flooding from melting snow.
One of the main culprits for the heavy snow accumulation was the so called "lake-effect" which created a stark divide: In downtown Buffalo and north of the city, there was a mere dusting of precipitation, while in parts south, snow was everywhere. The snow band that brought the snow was very much evident throughout the day as gray clouds persistently hovered over the southern part of the city. The band was so apparent that the wall of snow could be seen from a mile away.
A dramatic time-lapse of the snow-wall can be seen in the video below:
But nothing compares to the photos on the ground as shocked residents woke up to find themselves literally burried under 6 or more feet  of snow. Here is a sample of what they saw on Tuesday morning courtesy of Albany Meteorologist Greg Pollak:
OOOOF! MT @EdRussoWSBT: This is what snowed in really means. Pic:Jessica Marie in West Senaca NY via @GregPollak: pic.twitter.com/DHu0ZTNa1Q

— Jim Cantore (@JimCantore) November 19, 2014
Imagine opening the door to this… This is a shot from Buffalo, NY Tuesday…#lakeeffect pic.twitter.com/Y6zmqlfPGU

— Greg Pollak (@GregPollak) November 19, 2014
INCREDIBLE! RT @TrainerAmyIndy: @NWSIndianapolis
Friend in Buffalo opened her garage door and it looked like this: pic.twitter.com/SBFFaihGQO"

— Greg Pollak (@GregPollak) November 19, 2014
Neighbors helping fix the door that was smashed in by the lake effect snow in Cheektowaga… pic.twitter.com/ynPgUQ93Jt

— Greg Pollak (@GregPollak) November 19, 2014