Sydney Siege: Hostages Held in Central Cafe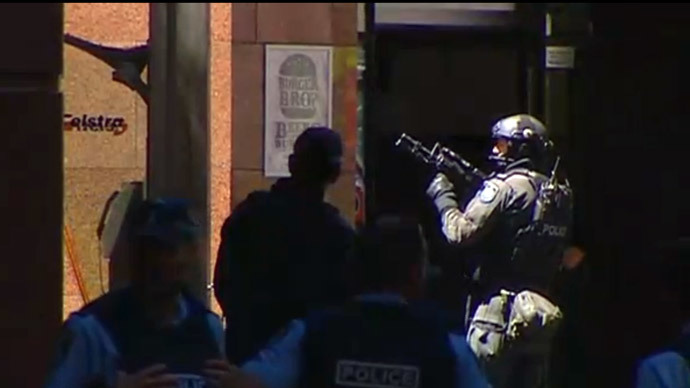 Several people have been taken hostage by at least one armed man at a Lindt cafe in the centre of Sydney.
Hundreds of armed police have sealed off the normally busy Martin Place in Sydney's central business district.
At least three people have been seen inside the cafe with their hands up against a window, and holding up a black flag with Arabic writing.
Australian Prime Minister Tony Abbott has described the incident as "deeply concerning".
He said it was not yet clear who was behind the incident but that it could be politically motivated.
In a news conference, he said the National Security Committee had been briefed, and urged Australians to go about their lives but to be alert.
"I can think of almost nothing more distressing, more terrifying than to be caught up in such a situation, and our hearts go out to these people," he said.
New South Wales Police said in a statement that an "armed incident" was under way, and that "specialist officers are attempting to make contact with those inside a cafe".
The police said nearby offices had been evacuated as a precaution and asked people to remain indoors and away from open windows.
Martin Place is a public pedestrian thoroughfare through the heart of Sydney, joining its parliamentary, legal and retail districts.
It is full of media, members of the public and the police, with what appear to be anxious colleagues of people trapped inside the building waiting for news. Several surrounding blocks are cordoned off.
US consulate in #Sydney reportedly evacuated amid ongoing hostage situation at chocolate shop http://t.co/n4D3yGjso9 pic.twitter.com/ayL7vvqxl8

— Fox News (@FoxNews) December 15, 2014
The NSW police commissioner, Andrew Scipione, and the premier, Mike Baird, speak
Andrew Scipione says there is an undisclosed number of hostages involved in the siege and one offender.
We want the matter resolved peacefully and we will do all we need to do to ensure that. What we also have is a number of incidents that people believe they be connected to the event and that is not the case.We have a lot of people concerned when they see a police vehicle drive down their street to think that their suburb or shire might be involved. That is not the case. We are very contained. We certainly have tight restrictions and tight controls around that location and we will work as long as we need to bring this to an outcome. The officers there are trained and professional. They know what they're doing and they have trained for. I am sure they will get through this and this will be an outcome that will be positive.
He does not confirm or deny that radio presenter Ray Hadley has spoken to a hostage. He says police negotiations have been undertaken with the hostages and police have not had direct contact with the offender. There were terror raids this morning in Sydney and Scipione says at this stage there is "no connection" between the raids and the siege.
.@chriskkenny talks about leaving the cafe at the heart of the #sydneysiege moments before the hostage situation http://t.co/VIv2LL86YK

— BBC World Service (@bbcworldservice) December 15, 2014
#SYDNEYSIEGE: Crowd gathers at police cordon in anticipation of news on hostage situation http://t.co/2zFjvlPC1n pic.twitter.com/YW5zGPMEWS

— RT (@RT_com) December 15, 2014
#SYDNEYSIEGE: Hostage-takers 'have suicide belts, demand radio convo with #Abbott' – report http://t.co/1ZlzKDjvSf pic.twitter.com/7Jej7i4SlO

— RT (@RT_com) December 15, 2014
#Sydneysiege hostage situation leads to road closures and transport diversions across #Sydney http://t.co/Euu8cnPnCd pic.twitter.com/1FPxfPS7WV

— ABC News (@abcnews) December 15, 2014