100 Million Americans Could Lose Power in Major Sun Storm
By Bill Gertz | Free Beacon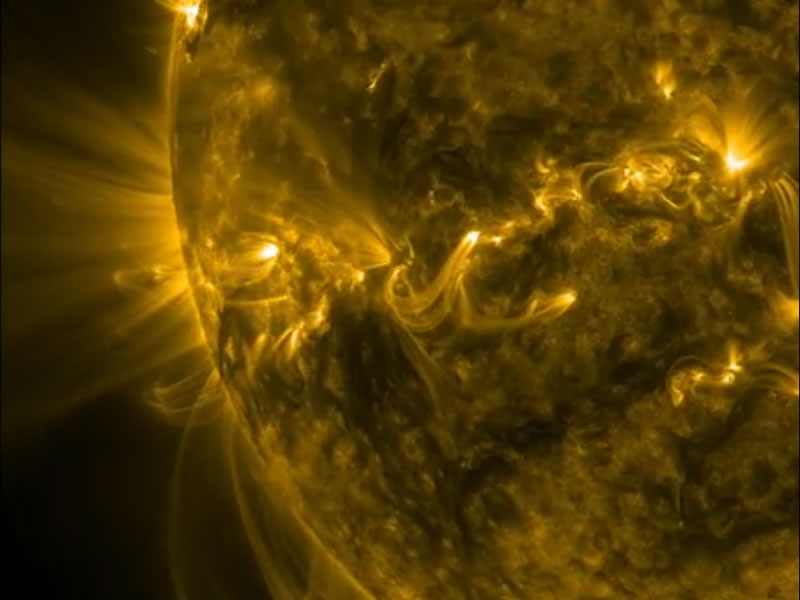 Millions of Americans face catastrophic loss of electrical power during a future magnetic space storm that will disrupt the electric grid and cause cascading infrastructure failures, according to a Department of Homeland Security (DHS) document.
DHS' Federal Emergency Management Agency (FEMA) stated in an internal 2012 fact sheet outlining its response plan for severe "space weather" that the actual impact and damage from a future solar storm is not known.
"An analysis of the space weather impacts indicates that the greatest challenge will be to provide life-saving and life-sustaining resources for large numbers of people that experience long-term power outage from damage to the U.S. electrical grid," the FEMA document, dated March 1, 2012, states.
The FEMA fact sheet noted the findings of a 2010 study by the National Oceanic and Atmospheric Administration, the agency that monitors sun storms, warning that an extreme solar storm could leave "130 million people without power for years," and destroy or damage more than 300 hard-to-replace electrical grid transformers.
Major solar storms are rare. Two major solar disruption events took place in 1859 and 1921, times when electricity was less prevalent than today.
The study said a future solar storm like the great magnetic storm of May 1921 would black out most states east of the Mississippi River along with most states in the Pacific Northwest.
The long-term loss of electrical power likely would produce catastrophic loss of life.
Dec 12, 2014
A series of elliptical loops seemed to droop down out of an active region on the Sun that was rotating into view (Dec. 7-9, 2014). The loops are actually particles spiraling along magnetic field lines when viewed in a wavelength of extreme ultraviolet light. Above this group other loops above another active region are tighter and less elongated, but always changing as well. The video covers two days of activity. Credit: Solar Dynamics Observatory, NASA.
Space Weather: http://www.spaceweather.com/
GEOMAGNETIC UNREST: NOAA forecasters estimate a 50% to 65% chance of polar geomagnetic storms on Dec. 14-15. The source of the unrest is solar wind: Earth is dipping in and out of a series of high-speed streams. Arctic sky watchers should remain alert for auroras in the nights ahead. Aurora alerts: text, voice
GEMINID METEOR UPDATE: The Geminid meteor shower is peaking today, Dec. 14th, as Earth passes through a cloud of debris from rock comet 3200 Phaethon. Last night, NASA's network of all-sky cameras detected 145 Geminid fireballs over the USA alone. Halfway around the world in Sweden, "we also saw many meteors," reports astrophotographer P-M Hedén, who captured this one just before local sunrise: