Putin Condemns The U.S. for Undermining World Order and Instigating the Rise of ISIS
On Friday, Russian President Vladimir Putin addressed the current world order at a meeting of the Valdai Discussion Club. During his speech, Putin spoke out in condemnation of the United States, and its relations with the rest of the world, and he proposed the need for a new system.
Putin prefaced his message by saying that although he may seem "a bit too harsh," he felt it was necessary to speak directly and honestly.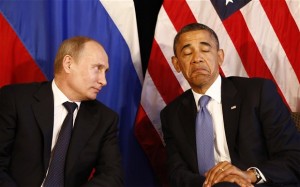 "We need to be direct and blunt today not so as to trade barbs, but so as to attempt to get to the bottom of what is actually happening in the world," said Putin, who went on to say that they must be direct in order to "try to understand why the world is becoming less safe and more unpredictable."
"As we analyze today's situation, let us not forget history's lessons."
Addressing the current state of international relations, Putin said that what the world needed to do was to "carry out a rational reconstruction and adapt it to the new realities in the system of international relations."
Putin used the analogy of the Cold War, saying that the United States, who "declared itself the winner," saw no need for adapting to a new system.
"Instead of establishing a new balance of power, essential for maintaining order and stability, they took steps that threw the system into sharp and deep imbalance," Putin said.
"We have entered a period of differing interpretations and deliberate silences in world politics," said Putin. He defined the current time as one where "objectivity and justice have been sacrificed on the altar of political expediency," and where "arbitrary interpretations and biased assessments have replaced legal norms."