NASA Image: 'Earth-sized' UFO Orbiting Sun Reported
By Examiner.com
A UFO the size of the Earth was observed entering or exiting the sun this weekend, which is seen in a series of pictures taken by NASA/SOHO states the latest report from UFO watchers. According to UFO Sights Daily on Oct. 25, the pictures of the sun are checked daily by the website's monitor and what they saw in a picture on Friday is quite large.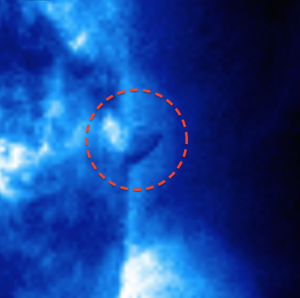 The spaceship, which would be the size of the Earth when compared in size to the sun, is solid and it doesn't give off any flames or heat exchanges. This heat and flame-like action is going on all around the image on the sun's surface. According to the website, Russian scientists alerted the world to UFO's that enter the Sun's orbit about five years ago.
This isn't the first time a space ship has been reported orbiting the sun, though this latest captured image is humongous in comparison to most of the other reports. Live Science reported what looked like a spaceship back in April of 2012. It was another NASA picture that captured this image. This is just one of many.
The spacecraft reports that came from the Russians were said to often make a hard right angle turn and then a quick change in speed. This latest report is believed to be one of those ships. There is something in that picture the shape of a shark's fin and extremely large. If you put an image of Earth next to the sun and that so-called ship captured in the picture, the ship would be as large as the Earth. The time-lapse NASA/SOHO pictures appear here.