STOCKS PLUNGE AGAIN: Here's What You Need To Know
by Myles Udland
Stocks finished lower for the third straight day on a Columbus Day holiday trading session that saw US equity markets remain open while bond markets and banks were closed for the day.
Stocks bounced around for most of the day before nosediving into the close, just as they did on Friday, with all of the major indexes falling more than 1.3% as the Dow lost more than 210 points.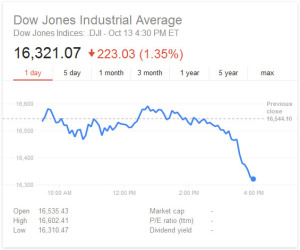 Over the past three days the S&P 500 has lost 4.8%, the largest three-day decline since November 2011.
First, the scoreboard:
Dow: 16,321, -223, (-1.3%)
S&P 500: 1,874.8, -31.3, (-1.6%)
Nasdaq: 4,213.6, -62.6, (-1.4%)
And now, the top stories on Monday:
1. With banks and the bond market closed, there were no economic-data releases on the US calendar. Overnight, however, trade data out of China came in better than expected, as exports rose 15.3% in September compared to a year ago.
2. The 2014 Nobel Prize in Economics was awarded to French economist Jean Tirole for his analysis of market power and regulation. Business Insider's Shane Ferro has a breakdown of some of Tirole's most recent work, which helps to explain how CEOs come to command outsize compensation.
3. Shares of GoPro fell more than 9% on Monday amid both broad market weakness and new reports that indicate a GoPro could have been responsible for the seriousness of the skiing accident involving Formula One driver Michael Schumacher. GoPro did not respond to Business Insider's request for comment on Monday. Shares of GoPro, however, have been notably weak over the past few days as the Nasdaq has been the biggest loser among the major indexes. GoPro shares are now down more than 15% over the past five days.