Ferguson: Protests Scheduled for 83 Cities, "Direct Action Trainings" Held for Protesters
By Melissa Melton | The Daily Sheeple
Everyone knows the government, with its lapdog mainstream media in lockstep, has whipped up the Ferguson situation into a total frenzy.
It doesn't matter what the grand jury decides now. Fear and anger are very powerful weapons and everyone who has allowed the powers that (shouldn't) be to steer their emotions on this one has taken the bait.
The cops have stocked up on nearly $200k worth of riot gear, less-lethal ammunition and the like. Ferguson residents have been advised to go get guns because the cops won't be able to protect them all from what's coming. Firearm sales in the area have skyrocketed. Everyone is on edge.
Missouri's governor has now preemptively declared a 30-day state of emergency and called out the National Guard — and the grand jury hasn't even made it's decision yet!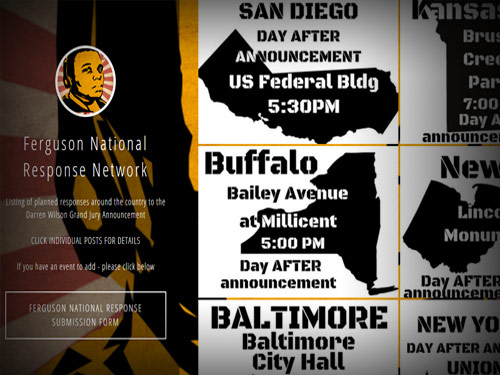 Basically, it's on.
Ferguson, however, is not the only city set to hold protests immediately following the Darren Wilson grand jury announcement.
Actually, they aren't even being referred to as protests anymore. They are now being called "planned responses."
A Tumblr page for something called the "Ferguson National Response Network" has posted a very organized list with graphics for each location (which must have taken a lot of time and effort) detailing these "planned responses" that have been scheduled for a total of 82 cities across the U.S. and one in Canada after the grand jury announces their decision (something which, if it's as scripted as the rest of this situation has been and continues to be, will be expertly timed with the holidays coming up).
Organizers are also holding something called "direct action trainings."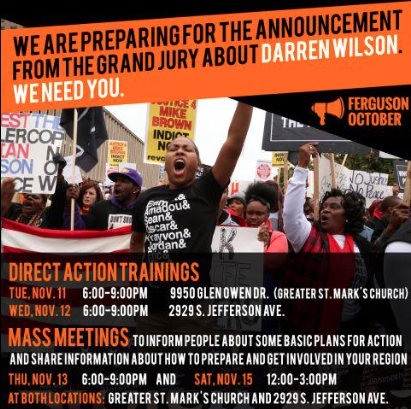 Here's what that looks like:
Community. We train. We protest. #Ferguson pic.twitter.com/hq3hcr3vom

— deray (@deray) November 15, 2014
The organizers have also released a list of 19 "Proposed Rules of Engagement."
Wow. Just wow. This is not your average civil disobedience. Martha Stewart has thrown less organized birthday parties than this. There are White House functions with less planning and training involved.
Anyone else get the sense that this whole thing has been co-opted? Think about it.
When you're mad about something that's wrong with the system, what do you do if you want to protest it? You pull out a black marker, get a poster board, call up your friends, maybe send out a few Tweets or Facebook messages, then you find a corner and start protesting.
http://youtu.be/UdU0hW2RxGM