7 Market Crops You Can Grow in a Greenhouse
By Jesse Frost
Your farm income doesn't have to drop just because the temperature has. Use your greenhouse to grow products for sale all winter-long.
When cold weather sets in, most farmers close up their market booth for the season and pack it in. However, a farmer looking to continue earning income in the off-season can turn to a greenhouse as a season extender, offering produce to hungry customers year-round. But what crops are best for greenhouse production? And what is the winter customer looking for? These are things you'll need to identify before starting your greenhouse operation. While it will take a little bit of market research on your part, here are our favorite greenhouse crops, as well as how to maximizing your yields and get them into the hands of eager customers—though if we're being honest, bring a fresh carrot to market in February and it will market itself.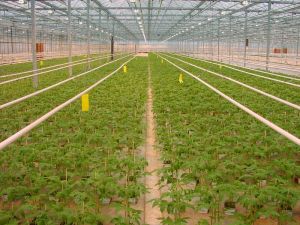 1. Cut and Head Lettuce
Lettuce is a relatively hardy vegetable, and a popular one no matter what time of year. Grow a few different lettuce varieties for mixes, as well as some colorful lettuce heads, to draw customers in.
Grow It: Sow seeds for leaf mixes thickly, preferably using a seeder, in tight rows 2 to 3 inches apart in 4-foot-wide beds. Cut leaves off one plant up to four times, tasting every time to make sure it hasn't become too bitter. For head lettuce, sow or transplant seeds 10 to18 inches apart, depending on the variety. Succession-plant in early fall and late winter.
Market It: Mix cut lettuce in plastic bags or enclosed totes, and display out of wind and sun. Dunk head lettuce in clean, cold water before market, and display on table. Keep both cut and head lettuce well-misted and prominent on the table. Few foods draw people in like fresh lettuce, especially the darker, redder varieties.
2. Spinach
Spinach is a classic greenhouse crop. It must stay watered and the farmer must avoid extreme temperature shifts by monitoring the greenhouse, but spinach can be cut from several times in a season and provide a dependable off-season income.
Grow It: For full leaf spinach, sow seeds 1 to 2 inches apart, in rows 10 to 18 inches apart. For baby spinach, you can sow seeds in wider bands, in rows 6 to 10 inches apart. Succession-plant in early fall and late winter.
Market It: If growing full spinach leaves, harvest from the stem, wash and tie in large, attractive bunches. Bring a baby spinach harvest in a tote or in individual bags, or consider consider making salad mixes with your spinach and lettuce.
3. Other Leafy Greens
Leafy greens like kale, collards and Swiss chard are not only wildly popular but are a great fit for farmers wanting to extend the growing season. The flavor of some greens, like kale, even improves with a little cold. These crops are also ideal because unlike broccoli or cabbage, where you get one cut and that's it, these greens can be picked off of all winter and provide months of income.
Grow It: Whether you sow seeds or use transplants, leave at least 8 to 10 inches between plants and about 24 inches between rows. Plant into fertile soil in early fall and late winter, and water regularly for best leaf production.
Market It: Tie or bag your greens in large, attractive bunches. Keep leaves misted and out of the wind to avoid wilting. Come to market with a full load—you're sure to sell out!