Featured Images November 2014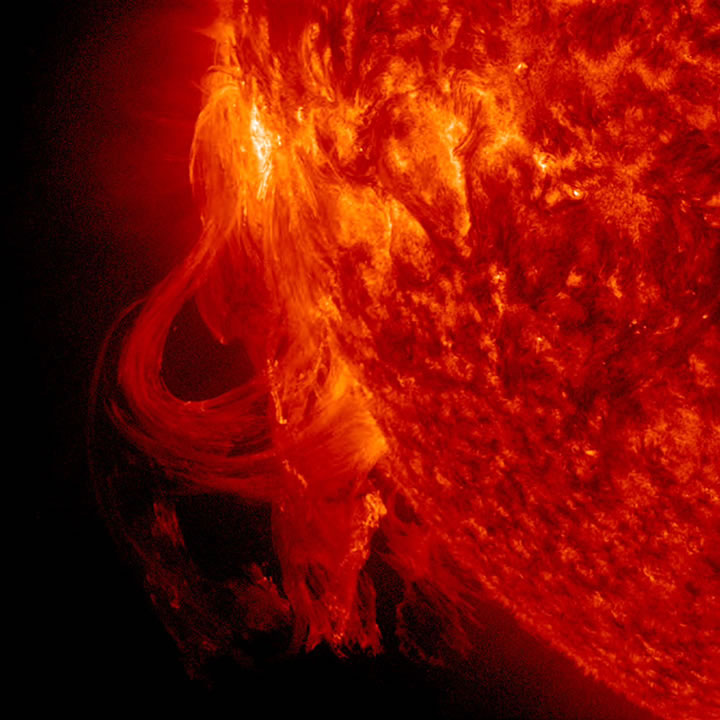 Our Sun's Plasma Ballet
A tangled mass of plasma, controlled by powerful magnetic forces, swirled out above the solar surface on Nov. 9, 2014, twisting and turning before it streamed back into the Sun. The sliding plasma possesses a kind of ballet-like quality of gracefulness over a four-hour period. This video (consisting of 400 individual frames) was taken in extreme UV light of ionized particles heated to 60,000 degrees K. Credit: Solar Dynamics Observatory/NASA.
Chandra of the Supernova
A long observation with Chandra of the supernova remnant MSH 11-62 reveals an irregular shell of hot gas, shown in red, surrounding an extended nebula of high energy X-rays, shown in blue. Even though scientists have yet to detect any pulsations from the central object within MSH 11-62, the structure around it has many of the same characteristics as other pulsar wind nebulas. The reverse shock and other, secondary shocks within MSH 11-62 appear to have begun to crush the pulsar wind nebula, possibly contributing to its elongated shape. (Note: the orientation of this image has been rotated by 24 degrees so that north is pointed to the upper left.) Image credit: NASA/CXC/SAO/P. Slane et al.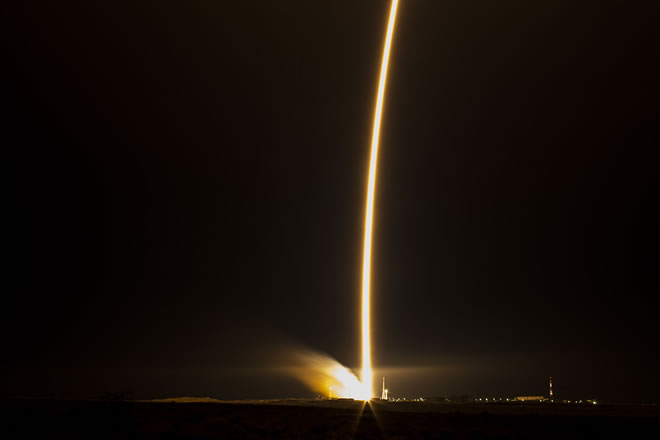 The Soyuz TMA-15M Rocket Launch
The Soyuz TMA-15M rocket launches from the Baikonur Cosmodrome in Kazakhstan on Monday, Nov. 24, 2014 as seen in this long exposure carrying Expedition 42 Soyuz Commander Anton Shkaplerov of the Russian Federal Space Agency (Roscosmos), Flight Engineer Terry Virts of NASA, and Flight Engineer Samantha Cristoforetti of the European Space Agency (ESA) into orbit to begin their five and a half month mission on the International Space Station. Image Credit: NASA/Aubrey Gemignani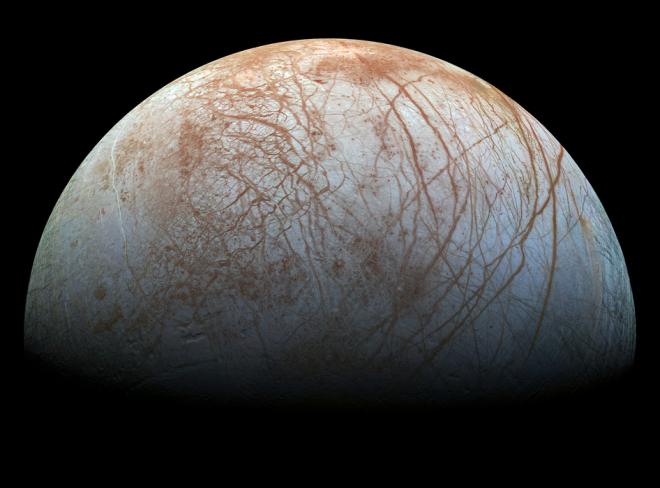 Jupiter's Icy Moon Europa
The puzzling, fascinating surface of Jupiter's icy moon Europa looms large in this newly-reprocessed color view, made from images taken by NASA's Galileo spacecraft in the late 1990s. This is the color view of Europa from Galileo that shows the largest portion of the moon's surface at the highest resolution. The view was previously released as a mosaic with lower resolution and strongly enhanced color (see PIA02590). To create this new version, the images were assembled into a realistic color view of the surface that approximates how Europa would appear to the human eye. The scene shows the stunning diversity of Europa's surface geology. Long, linear cracks and ridges crisscross the surface, interrupted by regions of disrupted terrain where the surface ice crust has been broken up and re-frozen into new patterns. More information about Europa is available at http://solarsystem.nasa.gov/europa. Image Credit: NASA/JPL-Caltech/SETI Institute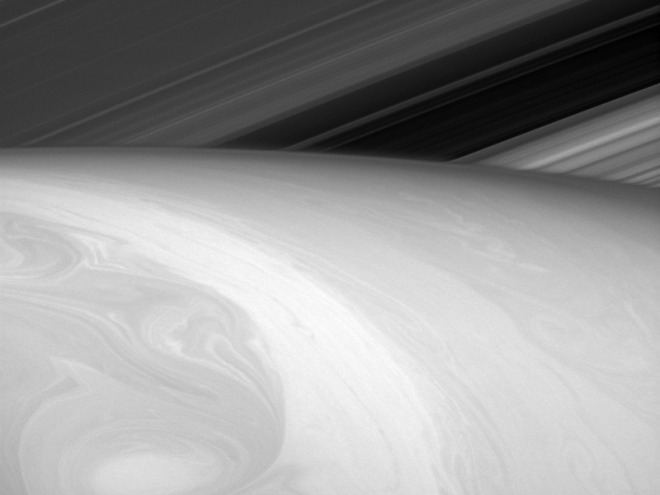 Saturn's Surface – Tops of its Uppermost Cloud Layers
Nature is an artist, and this time she seems to have let her paints swirl together a bit.
What the viewer might perceive to be Saturn's surface is really just the tops of its uppermost cloud layers. Everything we see is the result of fluid dynamics. Astronomers study Saturn's cloud dynamics in part to test and improve our understanding of fluid flows. Hopefully, what we learn will be useful for understanding our own atmosphere and that of other planetary bodies.
The Cassini-Huygens mission is a cooperative project of NASA, the European Space Agency and the Italian Space Agency. The Jet Propulsion Laboratory, a division of the California Institute of Technology in Pasadena, manages the mission for NASA's Science Mission Directorate, Washington, D.C. For more information about the Cassini-Huygens mission visit http://www.nasa.gov/cassini and http://saturn.jpl.nasa.gov . The Cassini imaging team homepage is at http://ciclops.org. Credit: NASA/JPL-Caltech/Space Science Institute.