US Arms Still Flowing to Thailand Despite Recent Coup
By Paul Gottinger and Ken Klippenstein | Truthout
In the six months since Thailand's military coup, the United States has exported tens of millions of dollars' worth of military equipment to the unelected government there. This finding is based on a new analysis of US Census Bureau export data conducted by Truthout.
The records, which run through September, show that since the May 22, 2014, coup, the United States has delivered $11 million in parts for military aircraft, more than $1 million in parts for guided missiles and three UH-60 Blackhawk helicopters worth more than $40 million.
The Thai military government, which calls itself the National Council for Peace and Order (NCPO), has mandated widespread censorship on television, radio, in print and in social media. It has also outlawed criticism of the military authorities, as well as gatherings of more than five people.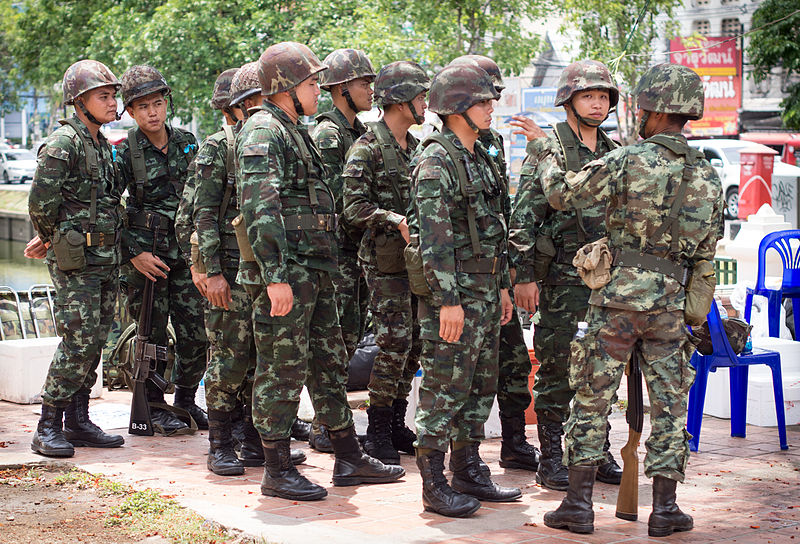 The NCPO has also detained more than 300 politicians, activists, journalists and demonstrators since the coup. Many are being held incommunicado at military black sites, and some are alleging torture.
In August, the leader of the military, General Prayuth Chan-ocha, was appointed the country's prime minister by a legislative body that he himself handpicked. General Prayuth has suggested that democratic elections may not occur until 2016.
The US arms deliveries have continued despite the Thai military's history of violent repression. In 2010, the Thai military opened fire during a crackdown on opposition protesters calling for new elections. Both Amnesty International and Human Rights Watch criticized the military's actions, which killed scores and left hundreds injured.
"We don't want weapons shipped that can be used against protesters," Brad Adams, the executive director of Human Rights Watch's Asia division, told Truthout.
However, the United States has continued to deliver arms to the Thai government. In the month immediately after the military seized power, the US government exported more than $1 million in parts and accessories for military rifles and has continued to export hundreds of military rifles and shotguns since the May coup.
When Truthout asked about the continued delivery of US arms to Thailand, a government spokesperson replied in an email: "The United States reviews all requests for security assistance on a case-by-case basis, taking into account political, military, economic, arms control, and human rights conditions in making decisions on the provision of military equipment and the licensing of direct commercial sales to any country."
Despite the State Department's reassurances, the US weapons deliveries to Thailand may be illegal under US law, according to Brittany Benowitz, an attorney and former congressional staff member with expertise in US security assistance.
"All of these transfers are arguably inconsistent with the new arms trade directive, which discourages transfers that would identify the United States with human rights abuses," Benowitz told Truthout.
The weapons transfers may also run contrary to provisions of the Foreign Assistance Act, and would be prohibited under federal law if any of the arms sales were financed in part with US funds, Benowitz said.
Regardless of whether the arms deliveries conform to the letter of current US law, observers believe US weapons sales, which are not barred in the Foreign Assistance Act, should end after a military coup.
"The United States should not be arming, training or engaging in military exercises with the Thai armed forces as long as the country is under military rule. This cutoff should include arms sales as well as military aid," said William Hartung, director of the Arms and Security Project at the Center for International Policy.
"To let sales go through while the military regime is still in power represents a tacit endorsement of military rule, and is unacceptable," Hartung told Truthout.