Is This a Triple-Dip for U.S. Home Prices?
By Jay Jenkins
Seven years ago, the real estate market in the U.S. collapsed from underneath itself. Seven years is a long time. For the average American today, that's about 10% of your life.
After all that time, though, the real estate market still hasn't fully recovered. The Case-Shiller Home Price Index Composite 10 remains about 20% below its 2006 highs.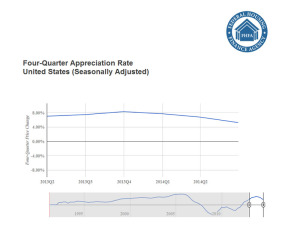 Even worse, home prices have turned downward once again so far in 2014. Is this the beginning of a triple dip, or is there something else at work? To figure it out, let's break down the fundamentals driving the market.
Where's the bottom?
We thought we hit the bottom of the market in 2009. That turned out to be premature, as the market rebounded only slightly before falling to a new low in early in 2012. Today the market has rebounded strongly from that low but has once again turned south.
The broader economy
The real estate collapse in 2007 was exacerbated by a fundamentally weak economy. Unemployment spiked, GDP fell into a tailspin, and the stock market collapsed around the financial crisis.
Today, though, the economy is stronger than it has been since the recession ended. Second-quarter GDP was recently revised upward to a 4.6% annualized growth rate, the unemployment rate is below 6% and declining, and consumer spending data continues to improve.
In some locales around the country — including Austin, Texas; Nashville; and Charlotte, N.C. — local economic strength is translating to a strong real estate market.