Rob Konrad After 16 Hour Ocean Swim: I Shouldn't Be Here
By Dave Hyde | Sun Sentinel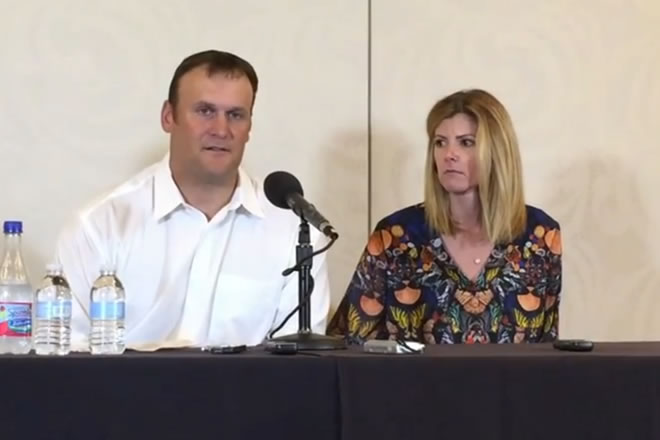 Rob Konrad walked stiffly into the room Monday morning, gingerly walked up two stairs with the help of his wife and fought back tears for the next half-hour as he related surviving an ocean ordeal after falling off his recreational boat nearly nine miles offshore.
"I shouldn't be here" he said.
Sixteen hours in the water. Twenty-seven miles from where he fell to where he washed ashore. Jellyfish stings. A circling shark. And two near-misses at being rescued.
"I'm grateful and thankful to be here," he said during a news conference in Plantation.
Last Thursday morning, the former Miami Dolphins fullback was taking his 31-foot boat from Lighthouse Point to Riviera Beach for service. Along the way, he put the boat on autopilot and began to troll. A big fish hit a line. As he moved the rod, a huge wave hit the boat, knocking him overboard.
"At that point in time, after panicking, I realized I was in real trouble,'' he said. "I was miles out, the boat was on autopilot heading east to the Bahamas, I didn't have time to get out an SOS call. I knew I was in trouble."
n avid boater since his youth in New England, Konrad figured he had two or three hours before hypothermia or cramps set in. He decided to start swimming west toward land in hopes of running into another boat.
Video: Rob Konrad talks about miraculous swim
Former Dolphins fullback Rob Konrad, still weak from a 16-hour ordeal at sea, got emotional as he discussed his will to survive and swim to shore. Adam H. Beasley / Miami Herald Staff