Dr. Richard Sacra, Cured of Ebola, Now Has No Fears for Return Trip to Liberia
By Lindsay Corcoran | Masslive.com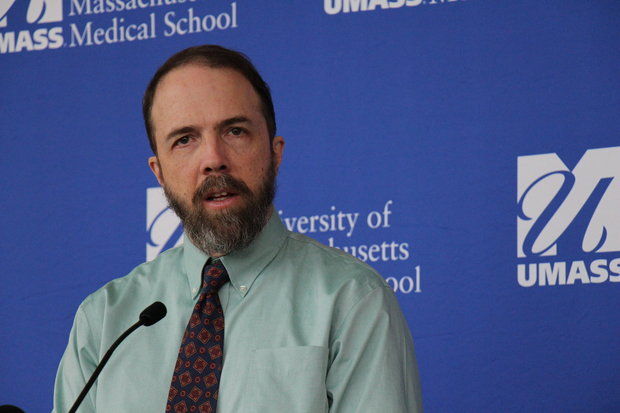 WORCESTER – In the battle against Ebola, one man who's about to return to the front lines has what may amount to a bullet-proof vest.
"I'm less nervous about this trip because … I've had the thing I was afraid of last time," Dr. Richard Sacra, the Holden man who was one of a few Americans to contract Ebola while working in Africa, said of his planned return trip.
Sacra met with reporters at UMass Medical School on Tuesday. He plans to leave for Liberia Thursday to continue his missionary work in a hospital just outside of the country's capital in Monrovia.
Doctors have told Sacra, who had contracted Ebola in August and was successfully treated at Nebraska Medical Center, that he is immune to the disease.
"I don't plan to test it, but I'm grateful for it," Sacra said. "I may be the go-to guy for unknown, risky-looking patients. Whatever role I can serve, I'm happy to do that."
While Ebola has slipped away from the headlines in the last couple of months, Sacra stressed that fight against Ebola is not over when talking about why he felt like he had to go back.
"We may be tempted to become complacent in coming months, but we must not rest until zero cases of Ebola exist and we must not rest until the hospital system in Liberia is strong enough to handle the next epidemic," Sacra said.
Sacra's wife, Debbie Sacra, who stood beside him smiling as he spoke with reporters, said she knew there was never a chance her husband wouldn't go back.
"Everybody knows that ever since he's gotten out of the hospital he's been saying he'll be going back," Debbie said. "When we got married 30 years ago, I knew that he was to be a missionary doctor and I knew that would be part of our family life. It's part of our relationship and our calling from the lord. There's probably less fear now because we know he's immune."