Lucky Aussie Prospector finds Massive 2kg Gold Nugget
By Cecilia Jamasmie | Mining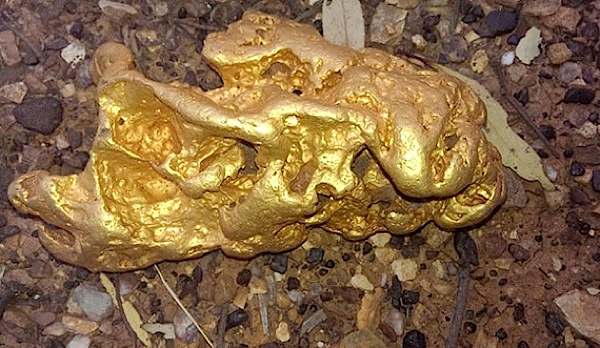 Australian prospector Mick Brown, 42, still can't believe his luck after he found a 87-ounce hunk of gold weighing more than 2kg in central Victoria, near Wedderburn.
he named it the "fair dinkum nugget"
According to The Age, he named it the "fair dinkum nugget" because when people feel its weight they say "fair dinkum this is huge."
While Brown chose to keep the place where he found the buried treasure as a secret, he disclosed he thought others had already searched in the same area.
In 2013 another prospector uncovered a 22-cm-long hunk of gold weighing 5.5 kg, outside of Ballarat, Victoria.
A few months earlier, a photo of a boomerang-shaped object, allegedly belonging to a huge 60-kilogram yellow metal nugget, found near Kalgoorlie, also had its 15 minutes of fame.
Video: Gold prospector struck it rich after unearthing giant nugget
A prospector has hit the jackpot in central Victoria after uncovering a gold nugget that weighs almost 3 kilograms.
Mick Brown was prospecting near Wedderburn when he dug up the 87-ounce nugget, which he says was only a few centimeters in the ground.