Facebook Sets up 'Dark Web' Link to Access Network via Tor
Facebook has created the ability for users to connect directly to the social network via anonymising "dark web" service Tor.
While it was already possible to access Facebook via Tor, the new set-up means all data is encrypted and Tor users are not mistaken for hacked accounts.
Users could access the site "without losing the cryptographic protections" of Tor, Facebook said.
It may appeal to people in places where the network is blocked.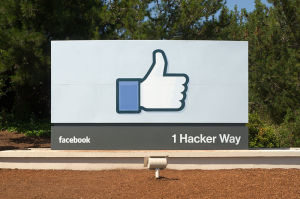 China, Iran, North Korea and Cuba are among countries that have attempted to prevent access to the site.
Facebook is the first Silicon Valley giant to provide official support for Tor, a network built to allow people to visit web pages without being tracked and to publish sites whose contents would not show up in search engines.
Facebook's move would prove popular among those who wanted to stop their location and browsing habits from being tracked, said Dr Steven Murdoch, from University College London, who was consulted by Facebook for the project.
He explained users would still need to log-in, using real-name credentials, to access the site.
He told the BBC: "It's quite hard to use a social network completely anonymously, it somewhat defeats the point, unless you're just reading information.
"But just because you want to tell Facebook your name, doesn't mean they should be able to find out your location and your browsing habits." The crucial change is the new Tor service – accessed through a Tor browser at https://facebookcorewwwi.onion/ – means all communication remains in the anonymous Tor network. Previously, some traffic would leave the closed network and access the open internet, potentially exposing a user's location and other information.
Dr Murdoch dismissed suggestions the move could anger governments who regularly approached Facebook with requests to hand over user information.
"It's not so much protecting people from governments," said Dr Murdoch, "but protecting from people who are spying on communications – that could be anyone from criminals to marketers."
Facebook, along with other major web companies, is currently pushing for permission to be more transparent over government requests it receives.