Expedition 42 Returns to Earth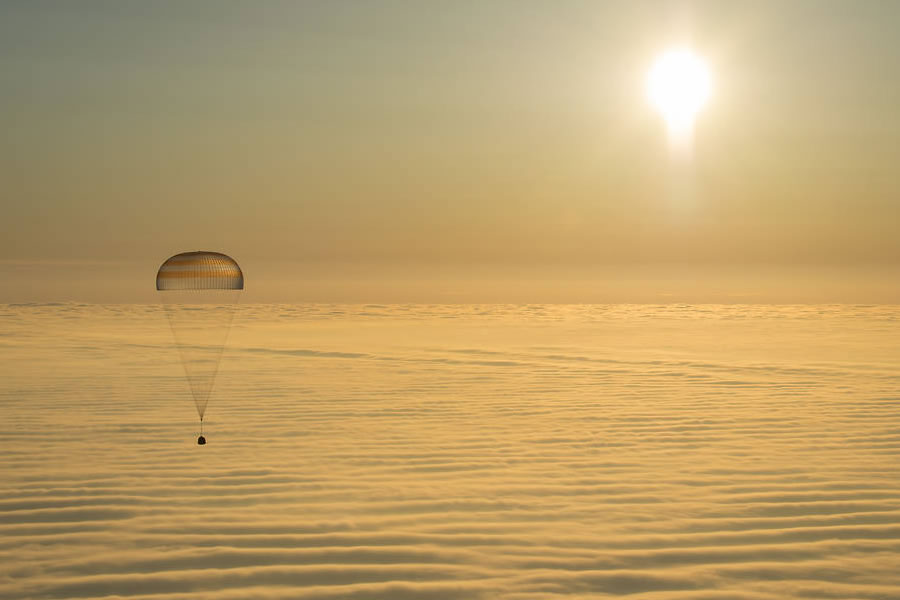 The Soyuz TMA-14M spacecraft is seen as it lands with International Space Station Expedition 42 commander Barry Wilmore of NASA, Alexander Samokutyaev of the Russian Federal Space Agency (Roscosmos) and Elena Serova of Roscosmos near the town of Zhezkazgan, Kazakhstan. The landing took place on the evening of Wednesday, March 11 in the U.S, and early in the morning on Thursday, March 12, in Kazakhstan.
The three crew members returned to Earth after a 167-day mission on the orbital outpost that included hundreds of scientific experiments and several spacewalks to prepare the orbiting laboratory for future arrivals by U.S. commercial crew spacecraft.
Video: Astronauts emerge from Soyuz after six months on ISS
Extracted from the capsule, which was charred on re-entry, the three were seated in semi-reclined chairs for a breath of fresh air and first medical checks, bundled up in blankets to protect them from frigid temperatures.
'Everything is great, thank you. The guys are great and worked very well,' said a smiling Serova while a female doctor measured her pulse and blood pressure.
'Congratulations on the recent holiday,' a rescue and recovery team officer said to Serova, referring to the International Women's Day marked on 8 March.
'Everything is fine. I am drinking real tea with lemon,' Samokutyaev said with a smile.
'I am glad to be here,' Wilmore said in Russian before the three got into all-terrain vehicles and were taken to individual helicopters to be evacuated from the landing area.