"V" Guerrilla Bombshell! The Mortgage Crisis And Funding Of Terrorist Activities
(RedPillReports) On Friday night, November 14, "V" The Guerrilla Economist and his guests Greg and Scott called for open and public Federal Joint Congressional Investigation Hearings and Testimony regarding "The Mortgage Crisis" and funding of terrorist activities.
They have made a petition available online, and ask your participation. This Petition demand is, in part, based upon that certain joint IRS and SEC Whistleblower Package (IRS Claim Number: 2014-007601 & SEC TCR Number: TCR1400871145384) submitted on April 24, 2014 that disclosed, outlined, described and evidenced massive trillion dollar Federal Income Tax Evasion and Securities Fraud stemming from the 2008 Mortgage Crisis that is being currently perpetuated by the continued illegal and fraudulent securitization and sale of Residential Mortgage Backed Securities (RMBS).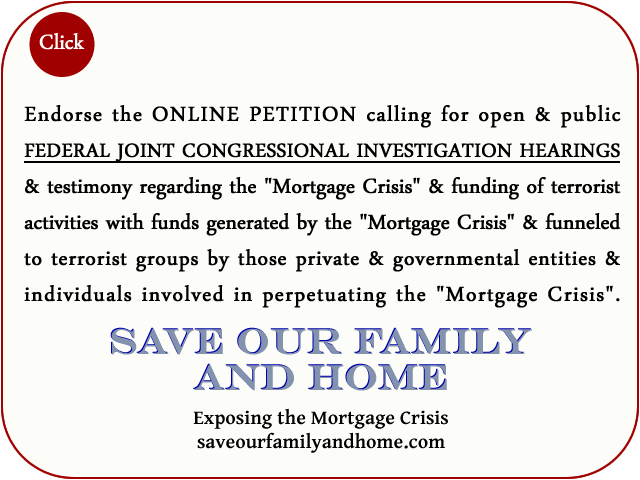 This Whistleblower Package detailed criminal Federal Income Tax Evasion and Securities Fraud committed by several Major Financial Institutions including, in part, Ally Bank, Credit Suisse, Deutsche Bank, Residential Capital and its affiliates, GMAC Mortgage, Wells Fargo Bank, Union Bank of Switzerland, Homecomings Financial, L.L.C., the Depository Trust Clearing Corporation, Depository Trust Company, Cede & Co., Euroclear and Clearstream.
Copies of this same Whistleblower Package were filed simultaneously with all Members of the U.S. Senate, elected officials in the Executive Branch, thirty-six (36) Federal Inspectors General, the Appropriations, Budget, Energy and Commerce, Financial Services, Oversight and Government Reform, Ways and Means, and Small Business Committees in the U.S. House of Representatives. In their written responses, the Inspectors General of the DOJ, DOD, GAO and FTC have fraudulently lied and misrepresented their jurisdictionally mandated responsibilities and authorities by publically stating that the issues raised and voluminously evidenced in the above-referenced Whistleblower Package are not within their jurisdiction.
Read more: Petition