Suburban Permaculture Transforms Neighborhoods
By Jan Spencer
Half of all Americans live in suburbia. It's true that suburbia is on the receiving end of a lot of social, economic and environmental criticism with much of that criticism well deserved. Suburbia requires a lot of resources to keep it going. Just about everyone has a car. Many homes are remarkably over sized. Suburbia is known as a place lacking in culture where people often don't know their neighbors.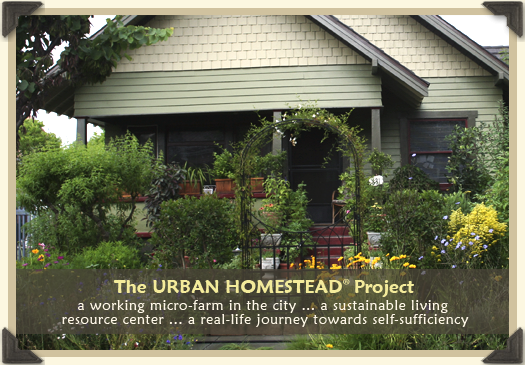 While some of these criticisms may be justified, at the same time, suburbia offers enormous potential to become a critical new frontier for deep changes in our culture and economy. "You don't have to move to live in a better neighborhood."
All over the country, a growing number of people are beginning to recognize the potentials of suburbia as a location for a way of life that is far more friendly to people and planet. Here in my neighborhood, two miles northwest of downtown Eugene, Oregon, we have a small preview of what suburbia can become. There are lots of good stories.
The purpose of this blog is to share practical experience for transforming suburbia. Food, energy, water, culture, economics, human scale technology, social uplift. This blog can also help bring people together who are starting out and others with years of experience, to share what they are learning for creating a very different kind of suburbia. This blog can help add to important conversations relating to the suburban frontier.
Fifteen years ago, I bought this modest 1,100-square-foot house. From the start, the plan was to make best use I could of the assets this quarter-acre provided. The grass is gone front and back. The 350-square-foot patio has become a closed in passive solar space that helps heat the house. There is edible landscaping all over. Automobile space has been reclaimed as the driveway was taken out and the one-car garage turned into a living space.
Surprising to some people, the Pacific Northwest is dry for months in the summertime so I installed a 6,500-gallon rainwater system for garden and landscape. The house has a solar water heater and heat pump, there are two water features landscaped with "urbanite" from my former driveway, and there are a greenhouse and cold frames.