Water Lily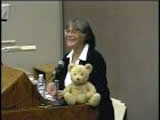 Social media Seen.is' out front Administrator, known as Water Lily to the online world, has been around the internet since the late 1990's. "I remember when the net was so small that there was a site called "What's New" that listed the new sites. I used to send emails to some of the people who sounded interesting, to see what the other newcomers were like. I made some long term friendships that way."
She sold CD ROMS from an online catalog while at the same time her boss Chris at Unseen was making CD ROMS. They laugh that she probably still had some of this graphics CD ROMS in a drawer.
Working as a military history researcher, she did work on Vietnam records, World War II prisoners of war and casualty records, and other related investigations. While involved in World War II research, she found the true story of General Stillwell's infatuation with a Communist spy told in his journals, scoured National Archives records for clues about the fate of Yamashita's gold at the end of World War II and read the official accounts of escaped prisoners of war. Maintaining an online presence brought her in contact with customers around the world, in the military, intelligence and political world. She is somewhat proud that she always made the government pay up front, because it was so difficult to collect any money they owed.
At the end of 1999 that she came across a story in an online newspaper about a group of spiritual students who were under severe persecution in China, and that opened the door to a new area of investigation, human rights in China.
Pursuing the brutality and economic exploitation of prisoners of conscience in the notorious labor camps, she's been engaged in exposing the virtual slavery of Falun Gong, Christians and other groups who manufacture goods for export since 2000. As a writer, her articles have appeared in newspapers, on websites, and in brochures. As a presenter, her presentation on the toxic products from labor camps has appeared on public television. (Her photo shows her speaking, with an example of typical stuffed animal of labor camp manufacture.)
She has been a regular member of online forums for several years, particularly conspiracy forums. She depicts herself as a traditional values conservative, unaligned with any political movement. Through her human rights work, she has come to believe that citizens all over the world are suffering from not only political and economic injustices, but also from attack on their traditional values and social structures.
She began noticing recently that around the world, the tightening of internet regulations and increased surveillance has grown to resemble China's repressive surveillance apparatus. As she became more involved in the study of privacy and communications surveillance, she became acquainted with Chris Kitze, Unseen's owner. Together they plotted the creation of Seen, a less secure, yet private place for people to go without being spied upon, and without their personal information treated as a commodity to be sold to marketers.
Now acting a Administrator at Seen, Water Lily oversees a rapidly growing membership of people escaping the tyranny of Surveillance Media. It is with fondness and a little pride that she views them expressing their relief to be in a place where they are able to just talk with each other without the Big Brother presence on other sites.