Asteroid Comes Close Jan. 26th – Mysterious Sand Dunes On Comet 67P?
By Linda Moulton Howe | Earthfiles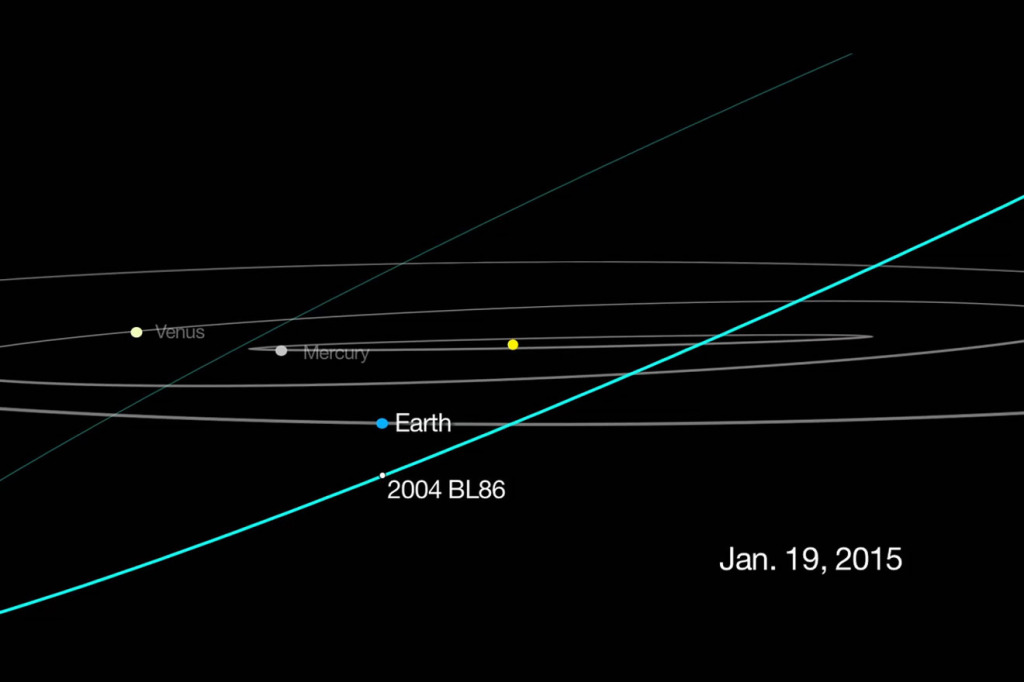 At present, we know almost nothing about asteroid 2004 BL86, so there are bound to be surprises." – Lance Benner, Ph.D., NASA Radar Astronomer
The circular 'goosebumps' (on Comet 67P) look very, very bizarre. To be frank, we don't know how those things were created. We have no clue." – Nicholas Thomas, Ph.D., Prof. of Experimental Physics, Switzerland's Univ. of Bern
January 26, 2015 Albuquerque, New Mexico – On Monday, January 26, 2015, at 11:19 AM EST, a large asteroid about one-third of a mile wide will zip past Earth some 750,000 miles (1.2 million km) away. The Goldstone Deep Space Network near Barstow, California, will track the asteroid. At that time, the asteroid should be close to the Beehive Cluster and with a powerful pair of binoculars, you might be able to see it. See sky map.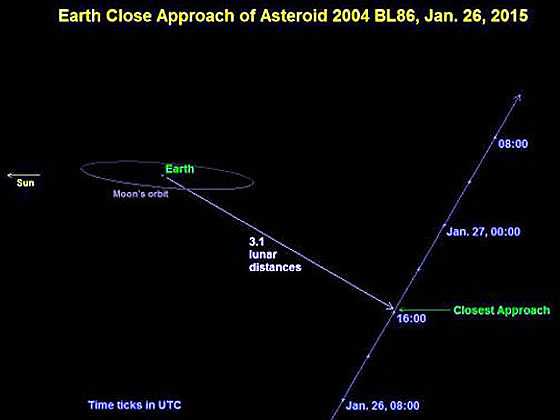 This diagram shows the close passage of 2004 BL86 on January 26, 2015, with closest approach occurring at about 16:19 UTC, or about 11:19 AM EST. The view is nearly edge-on to the Earth's orbit. The Moon's nearly circular orbit is highly foreshortened from this viewpoint. The asteroid moves from the south to the north, from below the Earth's orbit to above. The roughly 500-meter (1500-foot) asteroid approaches to within 1.2 million kilometers (750,000 miles) of Earth, or about 3.1 times the distance of the Moon.
This is the largest known asteroid to come near Earth until 2027, when another large rocky body called 1999 AN10 could come as close as 22,000 miles from Earth on August 7, 2027.
Comet 67P/Churyumov-Gerasimenko – "A World of Surprises"
The January 23, 2015, issue of the journal Science has ten new articles by European Space Agency scientists about the Rosetta Comet 67P/Churyumov-Gerasimenko mission that landed in November 2014, on the rubber-duck-shaped icy structure. All of the new science data adds up to what one researcher calls "a world of surprises" in the comet.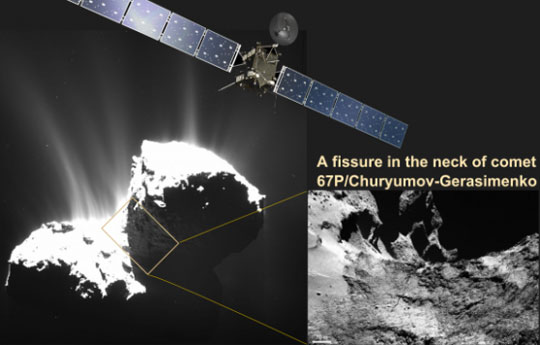 The European Space Agency (ESA)'s Rosetta mission reports in the journal Science that Comet 67P/Churyumov-Gerasimenko is showing a large crack about 300 feet long "across the neck of Comet 67P that raises the question: if, or when, will the comet break up?" See January 23, 2015, journal Science in Websites below.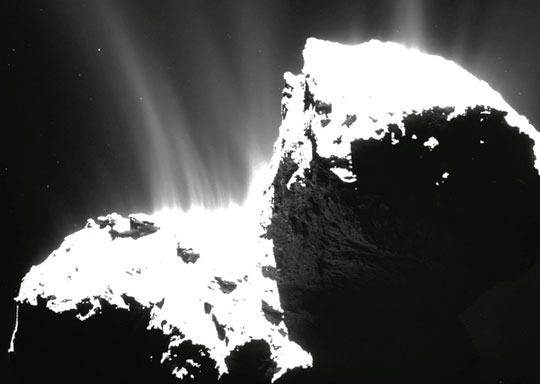 Comet 67P is 2.5 miles long (4 km) and oddly shaped like a child's rubber duck toy. ESA's Philae lander bounced down on the comet and cameras took photos while Philae's batteries lasted for 57 hours – unprecedented close-ups of a comet's surface. It's possible that Philae will "wake up" again when the sun shines on Philae again.
— The Rosetta orbiter in December took high-resolution photographs as fine as 2.5 feet per pixel and looked for the washing-machine-size Philae lander, but could not see it. Where is the Philae lander?
— What look like sand dunes and wind-tails on Earth or Mars ripple across some Comet 67P surfaces. But how is that possible? There is not supposed to be an atmosphere on a comet and so no wind to blow around surface materials into dunes. One hypothesis is that jets of gas seen in the above photograph could cause "intermolecular attraction known as the van der Waals force instead of gravity."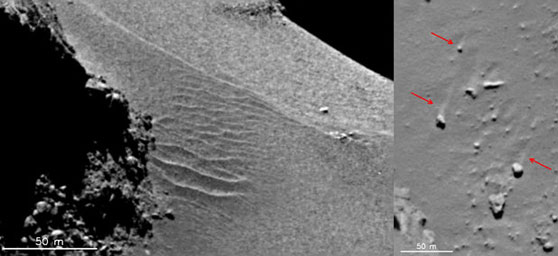 Features in the Hapi region show evidence of possibly local gas-driven transport producing dune-like ripples (left) and boulders with 'wind-tails' (right) – where the boulder has acted as a natural obstacle to the direction of the gas flow, creating a streak of material 'downwind' of it. The images were taken with the OSIRIS narrow-angle camera on September 18, 2014.
— In the smooth areas of Comet 67P, there are circular "goosebump" structures. Nicholas Thomas, Ph.D., Professor of Experimental Physics at Switzerland's University of Bern told reporters, "The circular 'goosebumps' look very, very bizarre. To be frank, we don't know how those things were created. We have no clue."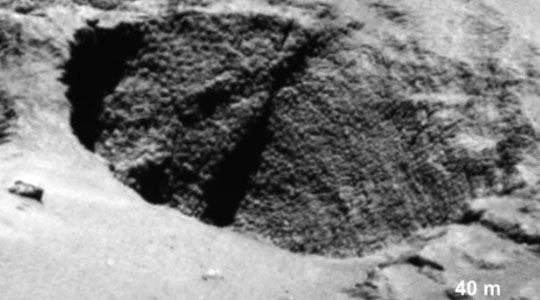 Close-ups of a curious surface texture on Comet 67P nicknamed "goosebumps," all of them at a scale of around 3 meters diameter and going across areas for as far as 100 meters.
— There are various cracks in the icy comet, the longest being about 300 feet long at the neck where the two comet sections meet. Scientists wonder if that crack will get bigger and that 67P could break in two.