This Will Make Watergate Look Like a Sunday School Picnic – "V" the Guerrilla Economist
(RedPillReports) In the words of "V" the Guerrilla Economist, "This will be monumental. This will make Watergate look like a Sunday school picnic and Iran Contra look like a choir boy circus".
On Friday, November 7, 2014, "V" The Guerrilla Economist invited Greg Morse back to the show. V described the information that Greg is bringing out, being on the level of a "JRR Tolkien" of finance.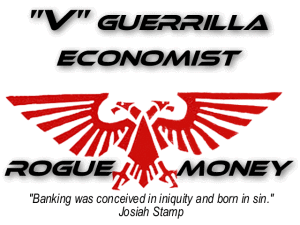 This was the prequel broadcast to the November 14th show, that lays the foundation to help you understand the progression of the information, as Greg Morse takes us deeper into the rabbit hole. It is recommended that you listen to this show first, so that you have the background needed to grasp the full disclosure in the Friday 11-14-2014 blockbuster.
Paraphrasing Greg Morse, the small town, farm boy, fighter pilot summarizes by saying, "The 6 years worth of research and legal process to bring everybody forward in equal knowledge regarding the mortgage crisis, beyond the Federal Reserve and show you where the preponderance of evidence shows where that money (that's been stolen from you, the homeowner) has gone and what it's been used for."
Is this disclosure really bigger than Watergate?
Greg follows up on Red Pill Reports broadcast, Monday November 17th at 11:00am Central Time.
The Guerrilla Economist is on Freedom Slips Radio every Friday night. Freedom Slips
"V" The Guerrilla Economist Website: Rogue Money
Twitter: Rogue Money Twitter
Greg Morse Website::Save our Family and Home/
Here is the "V" the Guerrilla Economist show from 11-7.