Banker Found Dead with Throat Slit in Apparent Suicide: Cops
By Jamie Schram, Natasha Velez and Beckie Strum
A prominent banker was found dead in the tub of his posh downtown apartment with his throat slashed — in what detectives suspect is a suicide, police sources said on Wednesday.
Shawn D. Miller, 42, who traveled the world for Citigroup as one of its top environmental policy experts, sliced his neck and wrists with a knife inside his home at 120 Greenwich St, the sources said.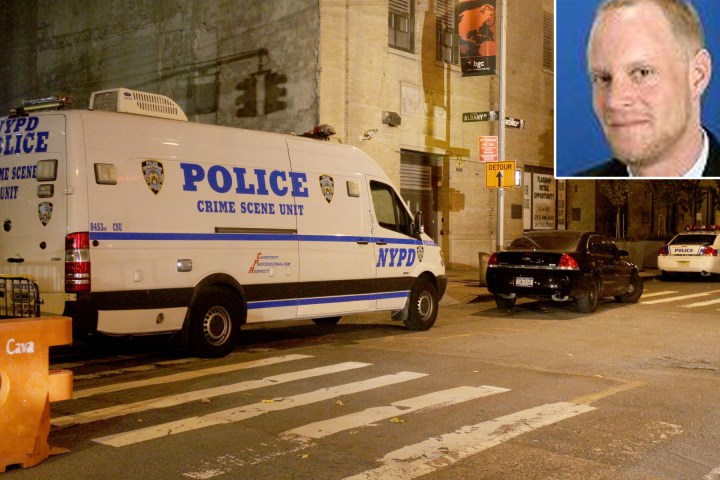 His body was found by a doorman Tuesday, after his boyfriend called building operators and said he was worried for the banker's safety.
Miller was last seen on surveillance video getting off an elevator at about 6 p.m. Monday with a mysterious man who was not his beau. The unidentified male was later spotted on camera leaving alone.
Investigators, however, believe the death is a suicide because of the nature of the wounds and the fact a knife was found under his body, sources said.
The doorman who found Miller's body, Tommy Perez, told investigators that he went to the victim's apartment on Tuesday afternoon after getting a call from a concerned man who claimed to be the banker's boyfriend, the sources said.
Miller had built a successful career in assessing the risk of investments.
In 2011, Citigroup promoted Miller to an executive position as managing director of environmental and social risk management.
Miller, who had previously worked for the World Bank, traveled frequently for Citigroup and was instrumental in designing Equator Principles, which banks widely use for establishing voluntary environmental policies.
The bank sent out a note Wednesday informing staff of Miller's death.