Global Warming? Record Breaking Cold Blankets United States
Something went wrong with global warming. It got cold. And the plan to tax ALL of us for CO2? (It's what plants breath folks.) Oh, now it's "Climate Change".
From weatherbell.com,
Tuesday morning, America 'as a whole' awoke to the coldest it has been in November since 1976 — 38 years ago. The Lower-48 or CONUS spatially average temperature plummeted overnight to only 19.4°F typical of mid-winter not November 18th! Data

An astounding 226-million Americans will experience at or below freezing temperatures (32°F) on Tuesday as well — if you venture outdoors.

More than 85% of the surface area of the Lower-48 reached or fell below freezing Tuesday morning. All 50-states saw at or below freezing temperatures on Tuesday.

Record lows from Idaho to Nebraska and Iowa south to Texas and east through the Great Lakes, the eastern 2/3 of the US will shatter decades-long and in some cases, century-long records. Temperatures east of the Rockies will be 20-40°F below climate normals.

Compared to normal, temperatures over the past several days have dropped off a cliff — to 10°C below climate normal — more anomalous than even during the #polarvortex of early January. Anomaly Chart . November is shaping up to be a colder-than-normal month by a lot.

Brisk northwesterly winds in the Great Lakes will cause heavy lake effect snow which will be measured in feet from Michigan to New York state. Monday, almost half of the Lower-48 was blanketed in snow. Please visit Mashable and Washington Post Capital Weather Gang for daily updates.

Cold air pushes east thru Wednesday with a reinforcing shot of Arctic air with origin from the North Pole & Siberia to arrive on Thursday in the Great Lakes. Any relief is is 5-6 days away as Chicago, Minneapolis, and Detroit will struggle to rise above freezing until Saturday.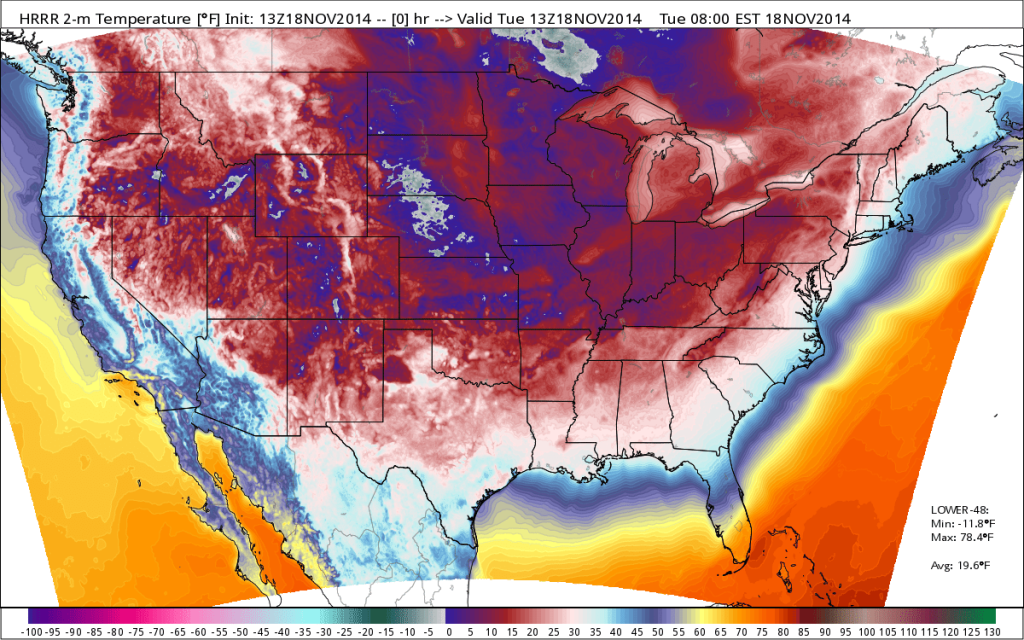 Climate has always changed, and it's cyclical. Although there are those who believe there has been a change in the jet stream due to a slowing, or stopping of the Gulf Stream Loop that took place as a result of Corexit being used to hide a majority of the gulf oil spill. See: Life on this Earth Just Changed. The North Atlantic Current is Gone