Ukraine Admits Its Gold Is Gone: "There Is Almost No Gold Left In The Central Bank Vault"
By Tyler Durden
Back in March, at a time when the IMF reported that Ukraine's official gold holdings as of the end of February, so just as the State Department-facilitated coup against former president Victor Yanukovich was concluding, amounted to 42.3 tonnes or 8% of reserves…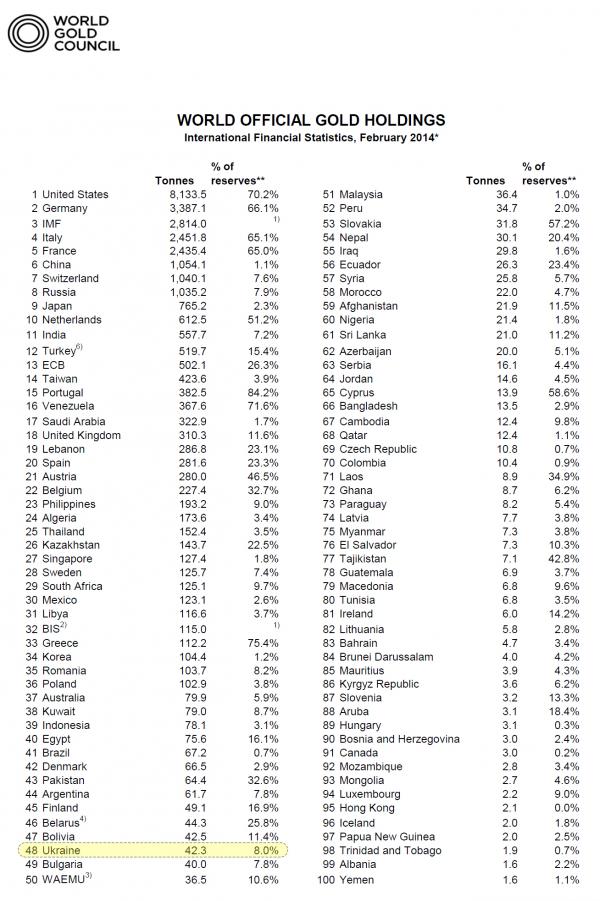 … and notably under the previous "hated" president, Ukraine gold's reserves had constantly increased hitting a record high just before the presidential coup…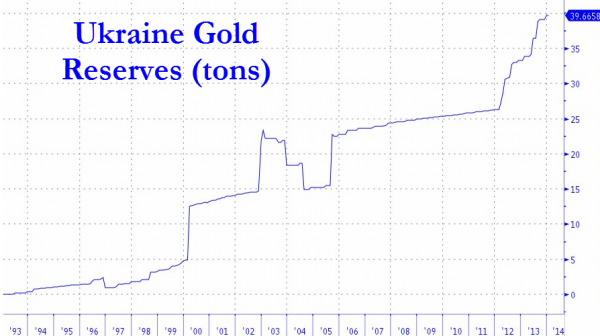 … we reported of a strange incident that took place just after the Ukraine presidential coup, namely that according to at least one source, "in a mysterious operation under the cover of night, Ukraine's gold reserves were promptly loaded onboard an unmarked plane, which subsequently took the gold to the US." To wit:
Tonight, around at 2:00 am, an unregistered transport plane took off took off from Boryspil airport. According to Boryspil staff, prior to the plane's appearance, four trucks and two cargo minibuses arrived at the airport all with their license plates missing. Fifteen people in black uniforms, masks and body armor stepped out, some armed with machine guns. These people loaded the plane with more than forty heavy boxes.

After this, several mysterious men arrived and also entered the plane. The loading was carried out in a hurry. After unloading, the plateless cars immediately left the runway, and the plane took off on an emergency basis.

Airport officials who saw this mysterious "special operation" immediately notified the administration of the airport, which however strongly advised them "not to meddle in other people's business."

Later, the editors were called by one of the senior officials of the former Ministry of Income and Fees, who reported that, according to him, tonight on the orders of one of the "new leaders" of Ukraine, all the gold reserves of the Ukraine were taken to the United States.
Needless to say there was no official confirmation of any of this taking place, and in fact our report, in which we mused if the "price of Ukraine's liberation" was the handover of its gold to the Fed at a time when Germany was actively seeking to repatriate its own physical gold located at the bedrock of the NY Fed, led to the usual mainstream media mockery.
Until now.
In an interview on Ukraine TV, none other than the head of the Ukraine Central Bank made the stunning admission that "in the vaults of the central bank there is almost no gold left. There is a small amount of gold bullion left, but it's just 1% of reserves."
As Ukraina further reports, this stunning revelation means that not only has Ukraine been quietly depleting its gold throughout the year, but that the latest official number, according to which Ukraine gold was 8 times greater than the reported 1%, was fabricated, and that the real number is about 90% lower.
According to official statistics the NBU, the amount of gold in the vaults should be eight times more than is actually in stock. At the beginning of this month, the volume of gold was about $ 1 billion, or 8% of the total gold reserves. Now this is just one percent.
Of course, considering the official reserve data at the Central Bank has been clearly fabricated, one wonders just how long ago the actual gold "dmsplacement" took place.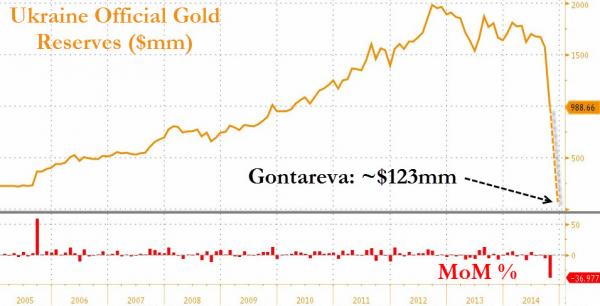 We get some additional information from Rusila: