Tens of Thousands Gather in Dublin for Water Protest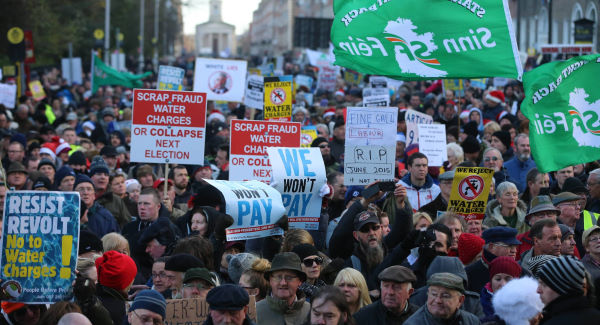 Crowds have gathered in Dublin to take part in today's protest against water charges, as gardaí say "in excess of 30,000" congregated in the area around Merrion Square.
That figure, however, was hotly contested by organisers who quoted figures in excess of 100,000.
Gardaí reported just two arrests for public order offences.
While the majority of protesters gathered peacefully at Merrion Square – where speeches and entertainment took place throughout the afternoon – a smaller group gathered at nearby Government buildings.
A public order unit of the gardaí was sent to Kildare Street after an attempt by some to breach the barrier there, which is blocking access to the front gate of Leinster House.
It's believed objects were thrown at some gardaí by at least one person in the crowd. RTÉ news reported that a garda was taken to hospital with facial injuries.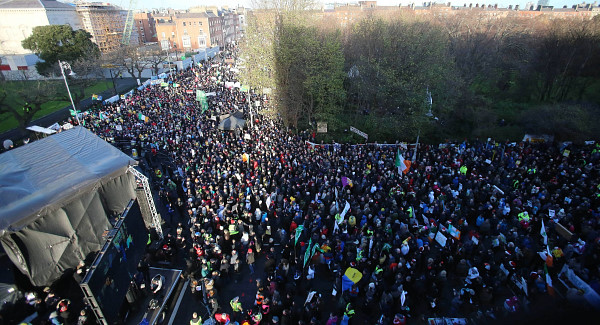 Gardaí in full riot gear gathered near the seat of Government following the incident, equipped with riot shields and helmets. Gardaí were also seen filming the crowd in the area.
Back at the Merrion Square stage, Irish singer-songwriters Glen Hansard and Damien Dempsey were among the performers present, and gave the crowd a rendition of 'The Auld Triangle'.
""I think there's something happening in the world, and I feel this is our version of it," Hansard said.
"The water charge is the straw that's breaking our backs – people are essentially very dissatisfied with how we are being governed."
He added: "I'm not political, but the Irish nation has now been forced to be (political) and to come out on the streets.
"We've gone through a lot as a nation.
"It feels like there is more and more screws being put on the people, to pay taxes for this, that and the other.
"A lot of money that went out of the country in different directions and it is not up to the people to pay it back.
"I think there is a general sense of anger, a seething dissatisfaction and I'm just like anyone else."
Earlier, a spokesperson from the UNITE trade union took to the stage and told the crowd that there were between 60,000 and 80,000 people in the area, despite the lower official estimate. That later swelled to a possible 100,000.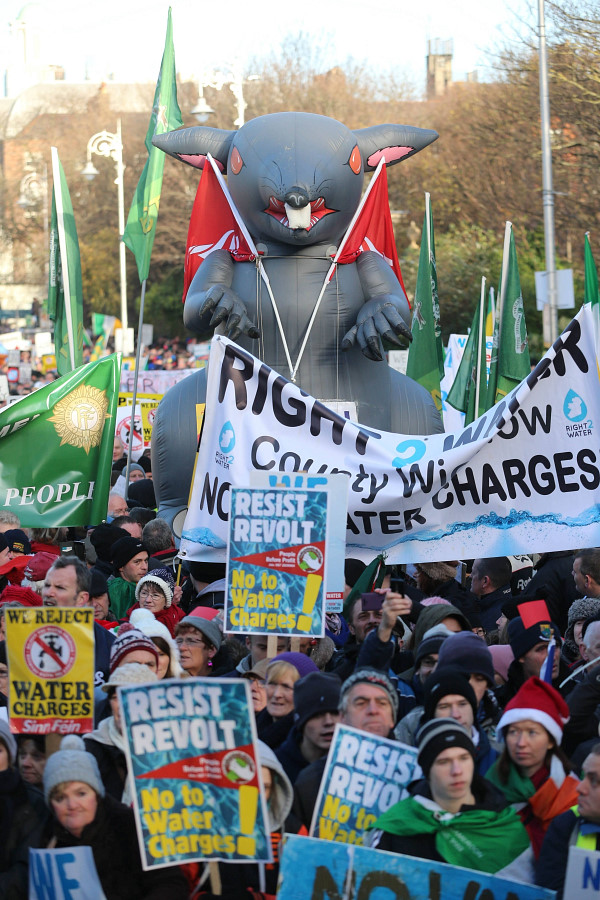 The large numbers created bottlenecks and prevented movement along some streets, as the protest sprawled along the city centre.
O'Connell bridge is also impassable to traffic as protesters have stayed in the area.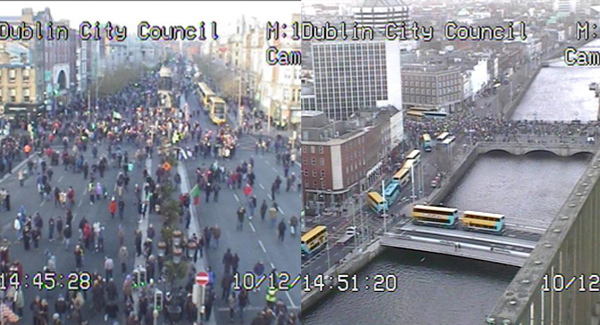 Motorists are advised to take precautions, as the protest marches converge on Merrion Square from multiple directions. Dublin Bus advised of delays on all city centre routes this evening until the protests clear.
The Dáil proceeded with business as planned.
There were scuffles later in the evening around O'Connell Bridge as gardaí ordered protesters off the road.
Video from Evan McCaffrey