Taliban Resurgent As 13-Year War In Afghanistan Nears End
As the Afghan military begins its first day in charge of combat operations in the region of Helmand province Monday, a resurgent and strengthened Taliban continues to gain control of key regions, including districts just outside of the nation's capital, Kabul. The handover and loss of territory comes at a difficult time for the country's military, as the Taliban has inflicted the deadliest period for Afghan forces since the war began, underlining the enormity of the task at hand and raising questions about how the jihadist group has changed over the past 13 years of war and where it stands now.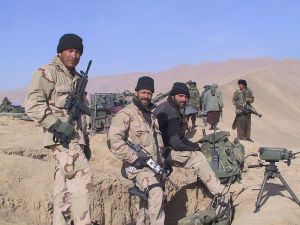 "They remain a formidable fighting force and are conducting increasingly brazen operations across the country," said Lisa Curtis, a senior research fellow and expert on Afghanistan at Washington, D.C., think tank The Heritage Foundation. "Over the last 13 years, they really have developed into a sophisticated force and have shown an ability to study U.S. and NATO strategy, patterns and found ways to continue attacks under different constraints."
British forces handed over Camp Bastion Sunday, marking an official end to combat operations by British troops. The adjoining U.S. Marines Camp Leatherneck was also handed over in a ceremony with Afghan troops.
While Afghan security forces remain in control over most of the country, the summer months offered a glimpse of what may lie ahead. Previously secure regions descended into chaos, and trouble spots, particularly the province of Helmand, have been extremely violent.
The insurgency has been in operation since June 2013, just a year after the U.S. withdrew the surge troops and continued to draw down its military footprint, handing over operations to Afghan security forces who assumed full control in mid-2013. In that year, however, there were 8,615 civilian injuries and deaths, a 14 percent rise over 2012 and the deadliest since records were kept in 2009, according to a report from the United Nations Assistance Mission in Afghanistan.