No Passengers, No Planes: 'Ghost' Airports of Europe
By RT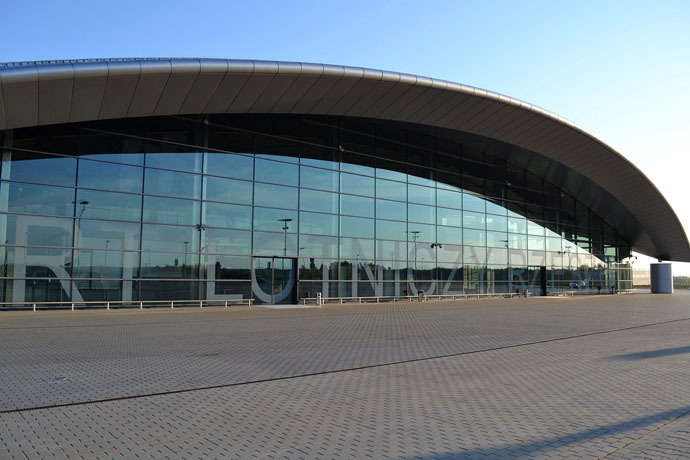 Across crisis-stricken Europe 'ghost' airports have freshly painted tarmac, shiny new doors and all the nuts and bolts in place – but no passengers and no airplanes, giving them an eerie aura.
Soaring costs have delayed the ribbon cutting ceremonies, as Europe's worst recession in 100 years has killed the projects.
The European Commission dispensed millions of euro in funding to boost the infrastructure at regional airports, but they are waiting for travelers and planes that never came, and have become symbols of reckless spending.
"The difficulty you have with the European Union is that ultimately it has all this money that it wants to divest in patronage through grants and all sorts of different sinecures, throughout the land of the 28 nations, and it wants to try and make an economic impact," Patrick Young, a financial expert, told RT.
People in Brussels "believe money grows on trees, that is the fundamental problem that is pushing the EU towards breaking point," Young said.

Poland, which joined the EU in 2004, and has been lauded by the Commission for its economic reforms and financial responsibility, received over $125 million (€100 million) to help build and upgrade 12 airports.
Lublin and Rzeszow are in the forested and hilly east part of the country and haven't yet opened. Lodz airport was given a facelift, but has failed to attract passengers as it's located just a 50 minute drive away from Warsaw, the country's largest airport Lodz opened in 2012.
Poland received €615.7 million from the EU to support these financial black holes between 2007 and 2013, according to figures provided by the European Commission to Reuters.
The airports failed to attract budget airlines to operate flights in between the small cities and bigger hubs.