Marine Sgt. Andrew Tahmooressi Freed from Mexican Jail
By William La Jeunesse, Dan Gallo
After 214 days in a Mexican prison, Sgt. Andrew Tahmooressi returned home to Florida Saturday, having been freed Friday night after a strong diplomatic push appeared to help convince a judge to release the former Marine on humanitarian grounds.
After reviewing the ruling, Tahmooressi family spokesman Jonathan Franks said the judge acted on a recommendation from the PGR, the Mexican Attorney General's Office. In that motion, the prosecutor "essentially withdrew the charges," Franks said. Moments later, the trial judge issued an acquittal in Andrew's case, calling for an "immediate and absolute release."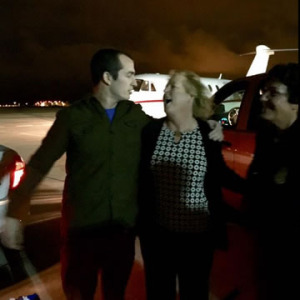 Franks said the private plane carrying Marine Sgt. Andrew Tahmooressi, his mother and supporters — including former New Mexico Gov. Bill Richardson — landed at a South Florida airport about 6 a.m. Tahmooressi was freed Friday night and reunited with his mother, Jill, and then boarded the flight to Florida in San Diego.
His release comes after a lengthy, closed trial and a Congressional hearing in September highly critical of Obama Administration efforts to secure his release and Mexico's refusal to let him go. Tahmooressi said he made an innocent mistake the evening he crossed into Tijuana with three weapons in his truck on March 31.
While his defense rested its case several weeks ago, Tahmooressi's release came only after a strong diplomatic push from former Gov. Bill Richardson of New Mexico and Reps. Ed Royce (R-CA) and Matt Salmon (R-AZ). Speaking by phone on his way to board a plane with Tahmooressi, Richardson said the trio, along with talk show host Montel Williams, met with Mexico's Attorney General and Ambassador to the US, advocating for his liberation.
https://twitter.com/LucidJonFranks/status/528405239624630272