Global Million Mask March
By RT
Protests against mass surveillance, govt austerity and social injustice have taken to the streets in over 400 cities worldwide. Dubbed the Million Mask March, the third annual act of mass civil disobedience was organized by the activist group Anonymous.
United in face and values, hiding behind the stylised Anonymous masks popularized by "V for Vendetta" movie, activists flocked the streets in the UK, China, and the US, just to name a few.
Some of the biggest protests were seen in London where hundreds of activists engaged in a tense and prolonged stand-off with police in and around the Parliament Square. At least ten people were arrested following scuffles on charges of assaulting police officers and different public order offences.
Ahead of the rally, Anonymous, a loose-knit collective that stages politically-motivated cyber-attacks on businesses, government and religious institutions to protect the rights of the people, warned its members of possible police brutality. Meanwhile activists on the ground did their best to stay out of trouble and not provoke any violence.
Yet the prospect of a harsh standoff with authorities did not stop a few thousand from marching through the streets against government corruption, corporate malfeasance and the expanding surveillance state. The mass protest was organized to coincide with Guy Fawkes Day, which is celebrated annually in the UK on November 5.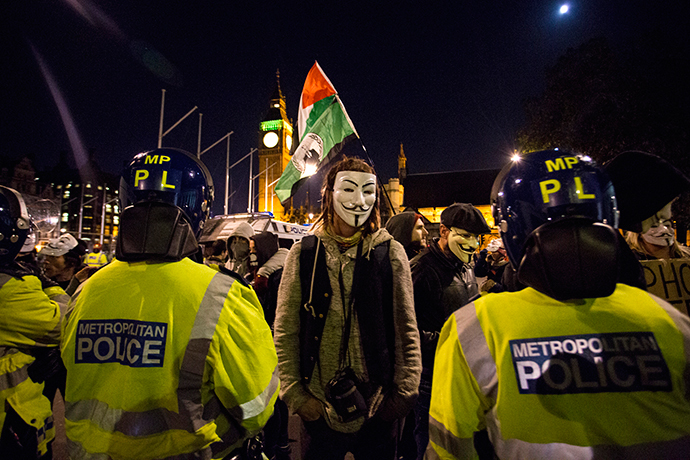 Anti-capitalist protesters wearing Guy Fawkes masks take part in the "Million Masks March" in Parliament Square in London on November 5, 2014. (AFP Photo / Jack Taylor)
"The internet has the power to bring down regimes. That is what terrifies them. That is why they are now monitor our phone calls, they monitor our emails, and they monitor our free speech. It terrifies them. They have no particular jurisdiction over the internet. It belongs to everyone," Old Holborn, member of the movement told RT from London.
Related tweets
https://twitter.com/JonePierantonio/status/530109946378326018
San Francisco Million Mask March now at Justin Herman Plaza. JOIN US! pic.twitter.com/snvHhdS47B

— John Harvey (@digitallywired) November 5, 2014
https://twitter.com/AnonNewsSwe/status/530291277099978752