Ethiopia: Ark of Covenant Reported Stolen by Church Authorities
Axum| The Patriarch of the Ethiopian Orthodox Tewahedo Church, His Holiness Abune Mathias, announced this morning that the most prized biblical treasure in the world, the Ark of Covenant, was stolen last night from the catacombs of the Church of Our Lady Mary of Zion.  The guardians of the artefact were allegedly put to sleep through the use of chemical weapons, before the robbers entered the crypt and stole the precious Holy item.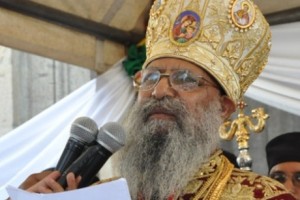 The criminal operation was reportedly executed by a team of 12 to 16 highly-trained professionals who travelled aboard two black military helicopters. They landed less than 500 meters away from their objective after allegedly arriving from the East. The men were dressed in black military-style uniforms and seemed to function as a well coordinated army unit. They were equipped with night-vision equipment and armed with high caliber weapons, giving them an incredible advantage over the local security forces.
The 11 guards and armed volunteers present on the site to defend the Ark were neutralized by the thieves, using some high technology grenades that released a rare opium-based soporific gas. The robbers then went into strenuous labor, using jackhammers and explosives to enlarge the corridors in various locations inside the catacombs leading to the Ark, in order to be able to remove the large chest from its underground vault.
The entire operation was over in less than an hour, an incredibly short time considering the number of obstacles that had to be overcome. This amazing efficiency suggests that the thieves had repeated the operation and had carefully prepared their crime.