Texas Gunman Attacks Austin PD, Shoots Up Mexican Consulate and Tries to Burn it Down
A man being described as a middle-aged white male opened fire early Friday morning on the Austin Police Department (APD) Headquarters. After firing about 100 rounds, the gunman was killed. It is not known for certain whether he died from a police bullet or from a self-inflicted shot. The man also fired at other government buildings in Austin along with the Mexican Consulate. While at the Mexican Consulate, he attempted to set a blaze using several propane cylinders.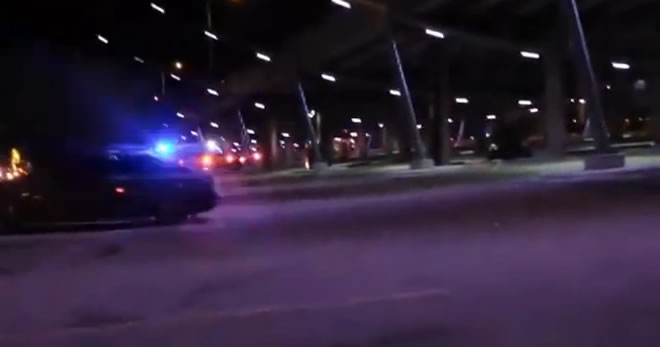 At about 2:20 a.m. Friday morning, the gunman began his shooting rampage. He shot rounds at the Mexican Consulate and attempted to set it on fire using propane canisters according to a report in USAToday. He then proceeded to fire shots at the U.S. Courthouse Building in Austin while in route to the Austin Police Headquarters. Other buildings were fired at along the way.
The fire at the Mexican was extinguished but was extensively damaged. No one has been reported injured at this time.
Some of the building shot at were near the popular 6th Street club district in Austin. The clubs close at 2 a.m. shortly before the shooting escapade began.
According to Austin Police Chief Art Acevedo, an APD mounted patrol sergeant shot the gunman with one hand while holding two horses with the other. The man was described as being about 50-years-old according to an article in TheState.com. It is not known at this time, if the sergeant's shot killed the suspect or if he took his own life.
Officers discovered more propane cylinders in his vehicle. The suspect was also wearing a bulky vest. Not sure if he may have been wired with explosives, officers backed away and the Austin Bomb Squad was called. They determined there were no explosive devices.
Chief Acevedo did not reveal the suspect's name at this time but said he had a criminal record. Police Tactical Teams responded shortly thereafter to an apartment complex where the gunman lived as a precaution. Some of the neighbors near the gunman's apartment were evacuated for safety purposes. One neighbor, Adam Peyton told TheState.com he awoke to the sight of SWAT officer and vehicles in his neighborhood. The apartments are located near Zilker Park. He said it is a very close community. "As soon as they show his face, we'll instantly know," Peyton said.
Acevedo began to fuel speculation about the shooters potential motive according to theUSAToday article cited above. Stating the suspect's targets indicated that he might have had anti-government motives linked to immigration. "If you look at the targets," Acevedo stated, "it doesn't take a genius that this is the potential. I would venture that political rhetoric might have fed into some of this, but that is speculation on my part."
*This story is becoming updated as new information becomes available. 
Bob Price is a senior political news contributor for Breitbart Texas and a member of the original Breitbart Texas team. Follow him on Twitter @BobPriceBBTX.