Sheriff Sends 24 Cops And Armored Vehicle To Collect Civil Judgement From 77 Y/O
By The Liberty Crier
When officials in the tiny Town of Stettin in Marathon County went to collect a civil judgment from 75-year-old Roger Hoeppner this month, they sent 24 armed officers.
And an armored military vehicle.
Among other issues, the recent unrest in Ferguson, Mo., focused attention on the growing militarization of local law enforcement, particularly the use by even very small police departments of surplus armored military vehicles.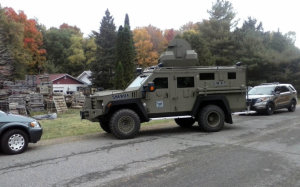 Marathon County sheriff's officials aren't apologizing for their tactics. Sheriff's Capt. Greg Bean said officials expected to have to seize and remove tractors and wooden pallets to pay the judgment — hence the cadre of deputies. He also said what while Hoeppner was never considered dangerous, he was known to be argumentative.
Hoeppner said when he noticed deputies outside his house, he called his attorney, Ryan Lister of Wausau. Lister said he quickly left for Hoeppner's house but was stopped by a roadblock that was kept up until after his client had been taken away in handcuffs. "Rather than provide Mr. Hoeppner or his counsel notice…and attempt to collect without spending thousands of taxpayer dollars on the military-style maneuvers, the town unilaterally decided to enforce its civil judgment" with a show of force, Lister said.
Bean said deputies had to handcuff Hoeppner because he was not following all their instructions, but did eventually agree to pay the $80,000 judgment after a visit to a bank — accompanied by deputies.
Bean also said the armored truck was summoned only after Hoeppner initially refused to come out of his house. Once the truck appeared, so did Hoeppner.
"I've been involved in about five standoff situations where, as soon as the MARV showed up, the person gives up," saving time, money and increasing safety, Bean said.