Police Dept. Requests Facebook PASSWORD From Gun Permit Applicant
Request violates Constitution & Facebook's Terms of Service
by Kit Daniels | Infowars.com
The Watervliet, N.Y., Police Department is asking pistol permit applicants for access to their Facebook accounts.
The department recently sent an applicant a form which asked for his Facebook username and password, and after the applicant complained, the department claimed the form was sent to him by mistake and was only used during face-to-face interviews when the department asks applicants for access to their Facebook accounts.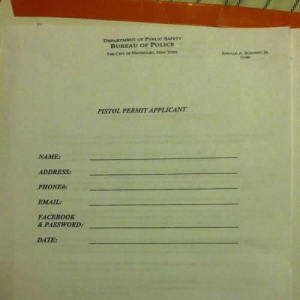 "It is… a common practice to view social media as a means to identify and determine character of a pistol permit applicant, in addition to other investigatory methods," the department's spokesperson told the applicant. "Typically all we ask is that an applicant access their account during an interview."
But if the police dept. gets the applicant's login credentials as requested on the form, and the applicant does not change his password afterwards, the police and the court reviewing the application can theoretically access his Facebook account as much as they want.
"It is what it is," the Chief of Police, Ron Boisvert, told gun rights advocate Robert Farago after Farago told him the request was unconstitutional.
So essentially, the Watervliet Police Dept. and the court are violating the First, Second and Fourth Amendments by strong-arming applicants into a warrantless search, which allows the court to deny applicants their Second Amendment rights based on their views expressed on Facebook.
"…If you decline – such information is no doubt handed up to the judge deciding yes or no on your application," reported nyfirearms.com. "The question remains – How many people actually gave into this blatant violation of their rights when applying for a pistol permit?"
The request is also a violation of Facebook's terms of service which prohibits users from sharing their passwords.
"…We've seen a distressing increase in reports of employers or others seeking to gain inappropriate access to people's Facebook profiles or private information," Erin Egan, the site's chief privacy officer, wrote. "This practice undermines the privacy expectations and the security of both the user and the user's friends."
"If you are a Facebook user, you should never have to share your password, let anyone access your account, or do anything that might jeopardize the security of your account or violate the privacy of your friends."
Watervliet, NY Asks Pistol Permit Applicants for Facebook Passwords. http://t.co/AVNzKC5YC2 #gunsense #2a #nra pic.twitter.com/W5NrLK008F

— Cal A. Feit (@tazcat2011) October 16, 2014