FBI's "Suicide Letter" to Dr. Martin Luther King, Jr.
The Dangers of Unchecked Surveillance
The New York Times has published an unredacted version of the famous "suicide letter" from the FBI to Dr. Martin Luther King, Jr. The letter, recently discovered by historian and professor Beverly Gage, is a disturbing document. But it's also something that everyone in the United States should read, because it demonstrates exactly what lengths the intelligence community is willing to go to—and what happens when they take the fruits of the surveillance they've done and unleash it on a target.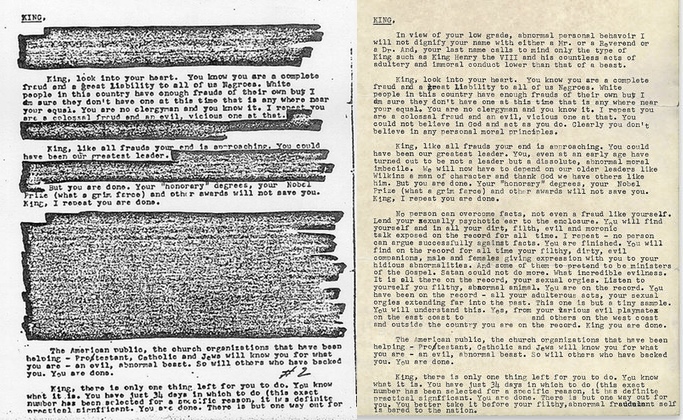 The anonymous letter was the result of the FBI's comprehensive surveillance and harassment strategy against Dr. King, which included bugging his hotel rooms, photographic surveillance, and physical observation of King's movements by FBI agents. The agency also attempted to break up his marriage by sending selectively edited "personal moments he shared with friends and women" to his wife.
Portions of the letter had been previously redacted. One of these portions contains a claim that the letter was written by another African-American: "King, look into your heart. You know you are a complete fraud and a great liability to all us Negroes." It goes on to say "We will now have to depend on our older leaders like Wilkins, a man of character and thank God we have others like him. But you are done." This line is key, because part of the FBI's strategy was to try to fracture movements and pit leaders against one another.