Unmanned NASA Rocket Explodes At Wallops Island in Va.
By  Mike Wall
A private Orbital Sciences-built cargo launch to the International Space Station ended in a fiery explosion just seconds after liftoff Tuesday night (Oct. 28).
Orbital's unmanned Antares rocket exploded in a brilliant fireball shortly after launching from NASA's Wallops Flight Facility in Virginia at 6:22 p.m. EDT (2222 GMT), crashing back down to the launch pad in a flaming heap. The Antares was carrying Orbital's unmanned Cygnus spacecraft, which was toting 5,000 pounds (2,268 kilograms) of food, scientific experiments and other supplies on this flight — the third cargo mission to the space station under a $1.9 billion contract the company holds with NASA. You can see photos of the Antares rocket explosion here.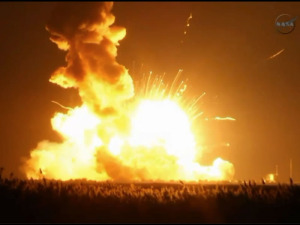 A NASA spokesman described the explosion as a "catastrophic anomaly" during a NASA TV webcast. While the assessment and investigation of the accident have just begun, NASA emergency operations officials report no injuries, Orbital Sciences representatives said. Property damage is limited to the south end of Wallops Island, they added.
"It is far too early to know the details of what happened," Orbital executive vice president Frank Culbertson, a former NASA astronaut, said in a statement. "We will conduct a thorough investigation immediately to determine the cause of this failure and what steps can be taken to avoid a repeat of this incident. As soon as we understand the cause we will begin the necessary work to return to flight to support our customers and the nation's space program."
The combined value of the Antares and Cygnus lost during Tuesday's mishap is about $200 million, Culbertson said during a post-crash news conference Tuesday.