Foodini Is A 3D Printer – Print Meals With Fresh Ingredients
by Natasha Lomas (@riptari)
Foodini is a 3D printer for foodstuffs. Its Florida-based makers are hoping their time-saving device becomes as ubiquitous on kitchen countertops as the microwave oven has become.
But instead of forcing people to rely on highly processed convenience food that's larded with additives and unhealthy levels of salt, as microwave meals generally are, they want Foodini to get more people cooking with fresh ingredients, rather than reaching for that pre-processed packet.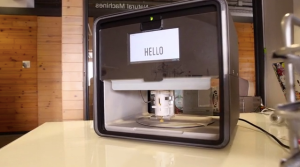 The Foodini 3D printer automates some of the cooking preparation process, by for instance, printing out individual ravioli instead of the cook having to make the dough and fill and assemble each individual piece themselves. It's not replacing all the preparation required to make the meal, but it's likely going to speed up aspects of food preparation (without necessarily sacrificing the freshness of the ingredients being used).
Currently the Foodini is at the prototype stage, with maker Natural Machines taking to Kickstarter to raise $100,000 to get the device to market. At the time of writing they've raised just under $30,000 with 29 days left of the campaign to run so things are looking good on the funding momentum front.
How does Foodini differ to other food-focused 3D printers? The big difference is users aren't required to use only pre-filled food capsules.
The machine uses open capsules that users load up with foodstuffs of their choice. It's not entirely a free-for-all of course. Food has to be of the right texture to print so it can be squeezed through the Foodini's pipes. Ergo, that means you're going to need to prepare those fresh chickpeas/chicken by blending into a nutrient slurry first. Yummy!
The machine can also print both savory and sweet dishes, so isn't limited to just printing sugary candies as some 3D printers are.