Atomic Clock that won't lose a Second in Five BILLION Years
A new record-breaking atomic clock is so precise it neither loses nor gains a second in five billion years – longer than the age of the Earth.
The 'strontium lattice clock' is 50% more accurate than the previous record holder, the National Institute of Standards and Technology (NIST) quantum logic clock.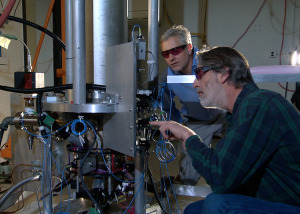 Researchers say the clock is so accurate, it can even reveal the effect gravity has on time.
The clock was developed in the US at the Joint Institute for Laboratory Astrophysics (JILA), by a team from NIST and the University of Colorado.
Group leader Dr Jun Ye said when it was unveiled in Nature earlier this year: 'We already have plans to push the performance even more.
"So in this sense, even this new Nature paper represents only a 'mid-term' report."
Clock will remain accurate longer than the age of Earth
Named by Guinness book of records as most accurate clock
Team found time doesn't pass at the same rate everywhere on Earth due to gravity
Say the only answer may be to put a clock in space