Land Buying and House Building Advice: A Roundup of Reader Tips
By Jennifer Kongs | Mother Earth News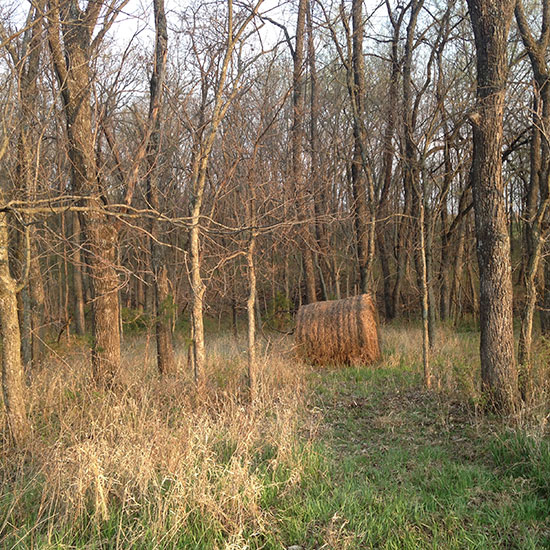 The Small Home, Big Decisions series follows Jennifer and her husband, Tyler, as they build a self-reliant homestead on a piece of country property in northeastern Kansas. The series will delve into questions that arise during their building process and the decisions they make along the way. The posts are a work in progress, written as their home-building adventure unfolds.
We shared the first several posts in this series on Facebook, and we received some good feedback that we just couldn't keep to ourselves. Here's a quick roundup, divided by post, of the advice the Mother Earth News Facebook fans had from their own experiences buying land and building a house.
1. Additional Advice and Feedback on We Bought Land, Now What?
Design!  Draw your property to scale and get your house spot down and design the bare bones of your yard, garden and farm. Plant little fruit, nut and shade trees now with a big ol' stake by each one! By the time you finish your house, barn and fencing, etc, they will be getting big and substantial for a lot less than larger trees! Make the drawing big and make it nice, because you will edit and use that for a decade. I know this first hand! — Wendy Schroeder
We just bought 42 acres in Tennessee. Reach out to your local ag agent and soil-conservation agent. There are lots of government grants for first-time farmers. Also check with your ag agent about Master Beef Producer Programs, which will qualify you for free farm equipment. Also, read up on IRS regulations for gains/losses. And, good luck! — Margaret Brogden Petre
We built a metal home with heavily insulated 9-inch walls. I highly recommend metal homes and the extra insulation. We should be able to heat our home with just a woodstove. — Christine Stout
Pay attention to solar South, and locate your house and design/arrange it to use solar power if you decide to use it in the future. Metal roof for rainwater collection on every building. That will prevent having to lay pipes to those locations. — Christina Forrester Bredenkamp
I have friends who have a centuries-old familiar farm between Ottawa and Osawatomie. Talk to the old farmers. You'll be glad you did! — Patricia Traynor
Joel Salatin's You Can Farm is a really good place to start. I couldn't recommend a better book. — Gilly Dixon-Spain
2. Additional Advice and Feedback on How to Finance Buying Land: Should We Go into Debt?
We bought 43 acres in Tennessee. We were able to get 75 percent financing. We will be applying for grants (many up to 90 percent) for fencing, cross fencing, and water for livestock. There is a lot of cost-share money available. Check with your local soil-conservation office and local ag agent. We had timber appraised today and it's worth half of what we paid for the farm! — Margaret Brogden Petre
Pay as you go. I had to go small, but it was way worth it. No mortgage, no car payments, no worries. — Steve Cinelli
I believe in paying in cash for whatever you need to get. A mortgage can be a useful tool. We all have seen the land market fluctuate over the last 10 years. And the longer you wait, most likely the higher the prices are going to go. Find a good family-owned bank, preferably one that does not deal in government loan programs. Interest will be a bit higher but that's the price you pay. Don't let a dream slip away because you hate banks. Use them as means to an end. — Steven Brinkman
We got a small mortgage on a piece of land a couple of years ago, paid half cash. Then we sold our house that had a mortgage. With the equity we had, we built a house by ourselves on our land and now we owe so little on the land that we'll probably have it paid off in a year. We got out of the system. And others can, too! But I will say, it's hard work to build your own. We did everything from the foundation to the septic. The only thing we hired out was someone to drill the well. But now we're free. And it feels good.  — Mary Johnson
3. Additional Advice and Feedback on How Do We Get an Entrance Permit for Our Driveway?