Sign the Petition to Save your Medical Choice and Protect Human Rights
By Ethan A. Huff | Natural News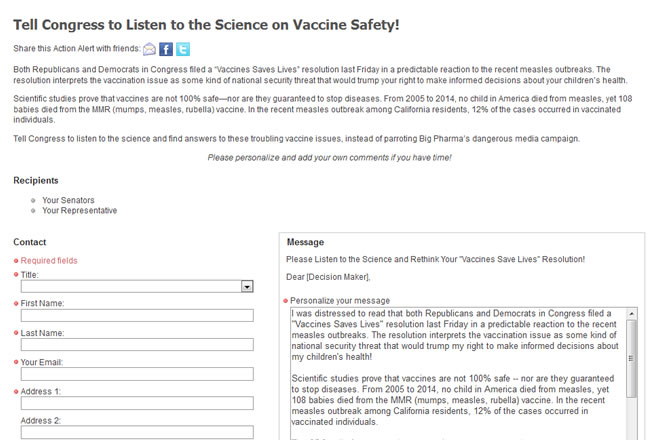 (NaturalNews) Who needs personal medical choice when the United States Congress has arbitrarily declared that vaccines are unequivocally safe? In complete denial of all the published data showing that vaccines can damage the brain, the gut, the blood and the immune system, congressmen from both sides of the aisle are proposing new legislation that rules vaccines to be completely safe, mandating that everyone get them as a matter of "national security."
Not getting vaccinated, according to the colloquially deceptive "Vaccines Save Lives" legislation, apparently threatens the safety and security of our nation, much like al Qaeda and ISIS terrorists. Allowing parents to decide whether or not their children need an injection of mercury, formaldehyde, aborted fetal tissue and attenuated live virus simply isn't an option in the new medical order, which seeks to forcibly vaccinate the entire population for the good of the herd.
Introduced by Representatives Adam Schiff (D-Calif.), Charlie Dent (R-Penn.), Thomas Marino (R-Penn.) and Peter Welch (D-Ver.), and supported by dozens of other members of Congress, the legislation proclaims unambiguously that "there is no credible evidence to show that vaccines cause life-threatening or disabling diseases in healthy children or adults." Based on this claim, lawmakers believe that everyone should be forced to get jabbed.
"Too many parents are turning away from sound science," stated Sen. Lamar Alexander (R-Tenn.), whose number two campaign contributor, according to OpenSecrets.org, is the pharmaceutical and health products industry. "Sound science is this: Vaccines save lives."
Congress is lying about vaccine safety; MMR can cause chronic inflammation in virtually every system of the body, and may cause death!
That's cute, Sen. Alexander, and it's sure to keep the cash flow coming in from your top lobbyists. But actual sound science reveals that vaccines aren't in any way 100% safe, nor are they guaranteed to prevent disease infection and spread. Between the years of 2005 and 2014, not a single child died in America from measles. During this same time period, however, at least 108 people died from the MMR vaccine.
The outlandish declarations made in the "Vaccines Save Lives" bill about the alleged effectiveness of vaccines also directly contradict the verbiage included in the MMR vaccine package insert, as printed by Merck, its manufacturer. Included in the insert is the following damning statement:
As for any vaccine, vaccination with M-M-R II may not result in protection in 100% of vaccinees.
Meanwhile, the following adverse reactions are listed as having been reported during MMR human clinical trials:
• Panniculitis (inflammation of the subcutaneous fat layer below the skin)
• Atypical measles (yes, the MMR vaccine can cause and spread non-wild-type measles)
• Vasculitis (inflammation of the blood vessels)
• Pancreatitis (inflammation of the pancreas)
• Diabetes mellitus
• Thrombocytopenia (low blood platelet count)
• Anaphylaxis (whole-body allergic reaction)
• Arthritis
• Encephalitis (inflammation and swelling of the brain)
• Febrile convulsions
• Aseptic meningitis
• Pneumonia
• Retinitis (inflammation of the retina of the eye)
• Epididymitis (inflammation of the coiled tube at the back of the testicle that stores and carries sperm)
• Death
Don't believe us? Check out the MMR II package insert for yourself under the section labeled "Adverse Reactions":
Merck.com.[PDF]
Sign petition to stop Congress from eliminating personal medical choice with vaccines
The Alliance for Natural Health USA (ANH-USA) has created a petition calling on Congress to reject the "Vaccines Save Lives" legislation in preservation of personal medical choice, which is both a human and a God-given right.
You can sign the petition here:
Secure3.Convio.net.
Other sources for this article include:

https://www.opensecrets.org
http://thehill.com
http://www.merck.com[PDF]