NYC Doctor Has Ebola; NY, NJ Impose Quarantines
The governors of New York and New Jersey have ordered a mandatory 21-day quarantine for all health care workers and others who have come in contact with people who have the deadly Ebola virus in West Africa.
The move comes a day after an American doctor was diagnosed with Ebola in New York. Craig Spencer, 33, an emergency medicine doctor at New York-Presbyterian/Columbia University Medical Center, returned to the U.S. Oct. 17. He treated Ebola patients in Guinea for Doctors Without Borders.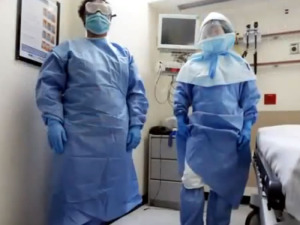 New York Gov. Andrew Cuomo and New Jersey Gov. Chris Christie announced the decision to impose quarantines Friday afternoon. Calls for this stringent measure have grown louder since Spencer was diagnosed.
Spencer was checking himself for Ebola symptoms while traveling around New York City, in accordance with the guidelines of Doctors Without Borders. He reported a low-grade fever Thursday morning and was immediately hospitalized. Doctors Without Borders does not recommend a 21-day quarantine for international health care workers returning home from a stint of Ebola care in West Africa.
The evening before Spencer's diagnosis, he took the subway several times and went bowling at The Gutter bowling alley before he took an Uber cab home. He also went to The High Line, a public park, and may have eaten at a restaurant, officials said.
"Since taking office, I have erred on the side of caution when it comes to the safety and protection of New Yorkers, and the current situation regarding Ebola will be no different," Cuomo said in a news release. Christie added, "By demanding these enhanced measures, we are ensuring that any suspected cases are identified quickly and effectively, and that proper safeguards are executed."
Video: A New York City doctor who recently returned from treating Ebola patients in Guinea, tested positive for the disease on Thursday.
Dr. Craig Spencer, 33, reported experiencing symptoms like fever and gastrointestinal problems Thursday morning, and was transported to Bellevue Hospital in an ambulance staffed by a "specially trained HAZ TAC unit wearing Personal Protective Equipment," according to a statement from the New York City Department of Health and Mental Hygiene. He was found to have developed a 103 degree fever.