Daniel Estulin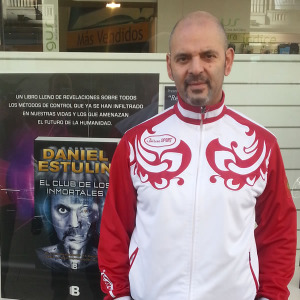 Daniel Estulin is a dangerous man to the status quo. Possessed, obsessed, tenacious and courageous, an award-winning investigative journalist, he is a man who has been in the cross- hairs of the global power brokers for almost two decades. He is our preeminent historian of the global elite, a scholar of remarkable breadth and erudition and one of the world's most outspoken public intellectuals. Estulin doesn't mince words and he doesn't hold back when naming names, and when identifying the cauldrons of chaos they have created. Over the past 20 years, he has exposed these and other "Shadow Masters" among the secret global power elite as the coolly vicious orchestrators of wars, terrorism, drug trafficking and grand-scale theft.
Website: http://www.danielestulin.com/
Facebook: https://www.facebook.com/danielestulinfans
Twitter: https://twitter.com/estulindaniel
YouTube: https://www.youtube.com/user/DanielEstulinVideos
Books: The True Story of the Bilderberg Group and Shadow Masters: An International Network of Governments and Secret-Service Agencies Working Together with Drugs Dealers and Terrorists for Mutual Benefit and Profit
Served by minions with recognizable names, the Shadow Masters further their agendas using public monies and government resources around the world as if they personally owned them. Meanwhile, banks launder hundreds of billions of narco-dollars yearly. In his international best seller, The True Story of the Bilderberg Group, Mr Estulin was the first man to publicly expose this shadowy cabal of some of the world's most powerful behind the scenes manipulators. Again and again, Daniel Estulin bravely journeys to the epicenter of hell to uncover some of the most mind boggling crimes by the men who run the world from behind the scenes.
Mr. Estulin is inarguably one of the world's most daring and experienced reporter on the global power elite. At a great person cost and unimaginable personal risk, Mr. Estulin has demonstrated a clear understanding of the differences between those who would seek to do evil, and their victims…and has gone to incredible lengths to bring to the task their crimes. He meticulously documents his reporting and has developed sources other journalists don't even know exist.
Asked why he practices such a difficult and controversial brand of journalism, Estulin replies,
"Because universal corruption and abuse of power and privileges at the deepest levels of society must be exposed and because I refuse to turn my back on inhumanity and violence."
Estulin doesn't just inspire us, he informs us with his intelligence, authenticity, generosity and compassion. Daniel Estulin provides the information, tools, and motivation necessary to inspire and catalyze strategic citizen action. In doing so, his work strengthens movements, ensures a more just system, and brings us closer to the promise of democracy.
His Nobel nomination is a tribute and recognition for all the work in fighting, exposing and risking his life for the common good of the human race.
---
Daniel Estulin's international best seller, The True Story of the Bilderberg Group is coming soon to a theater near you. The film is being produced by Proindes Media of Spain, with a projected release date of April 2015. The documentary has been entered into 12 national and 37 International documentary film festivals.