Chris Kitze
Currently the CEO of Unseen, ehf, a provider of secure and private communications. Kitze has founded and led numerous high tech companies.
Starting in digital publishing with CD-ROM's in the 1980's, he has focused most of his attention on consumer facing web sites since 1995. His first internet success was the sale of Point Communications, at the time a Top 20 internet web site, to Lycos, Inc, where he was the VP of marketing through their IPO.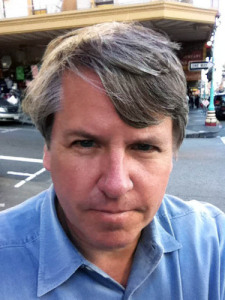 Following Lycos, he co-founded Xoom.com and took it public in 1998, merging it with CNET and NBC assets to form NBC Internet in a $6 billion combined deal. He was the CEO of NBCi for just under a year.
Later, he merged eVineyard and assets acquired from the foreclosure of Wine.com to form the new Wine.com. He is also founded and is the publisher of the crowdsourced news site Before It's News, a leading alternative news web site.
Chris' comments in an interview with RT
RT: Reports have emerged claiming the NSA and GCHQ actually work to hack the codes protecting data like e-mail and bank records. Given the assistance of major service providers, how much data can the spies access?
Chris Kitze: Probably all of it. I think your listeners and viewers should assume that everything that goes through the NSA has been broken in real time. I think they want the ability to look back in time to see somebody and find a pattern. And so, they're looking at who this person was in contact with, what they said to that person, those kinds of things. The problem here in the United States is that it's actually against the law, it's called wiretapping. And you can do it when you want, but you can't do it on a huge scale. Like, apparently, they've been doing.
Read more: http://rt.com/op-edge/nsa-war-with-us-citizens-523/
Web sites: https://unseen.is/
http://beforeitsnews.com/
http://seen.is/
Twitter: https://twitter.com/ChrisKitze
Google+: https://plus.google.com/117339569621256031339
YouTube: https://www.youtube.com/user/ckitze
About Unseen
Unseen brings consumers and businesses very strong secure and private communications. Our skilled and experienced team have been building popular web sites and services since 1995. Before starting Unseen, we developed Before It's News, a leading source of alternative news and information. Because of this, we've had numerous people share with us their concerns about internet communications security. We've been aware of most of the recent revelations for years.
Our premise is that everyone needs to be able to hear the truth so they can make a good choice for their future. If your communications isn't secure, it could be monitored, blocked or changed without you knowing it. That's not good for anyone.
With all the recent spying disclosures, we became concerned about the safety of our customer's data, so we moved the company and servers to Iceland. Iceland has a good track record of doing the right thing for protecting privacy and their past behavior with the bankers and human rights. It's a neutral country where during the height of the cold war, this is where Reagan and Gorbachev had their famous meetings. It's a very developed country with state of the art data centers where your data is safe and under the protection of Icelandic laws. Our Icelandic director is firmly in control of any requests for data and will do everything legally possible to protect our customer's communications.
In the future, expect many upgrades to our systems, as we stay abreast of the latest encryption and security technology and do everything we can to continue to earn your trust.
About Seen
No censorship!  Keep in mind we do have a Terms of Service that will need to be followed for things like pornography, copyright violations and defamation.  If we receive a complaint, we'll investigate.  If you are accustomed to the freewheeling style at Before It's News, we think you'll enjoy Seen.is
NO ID required.  The Face is now asking certain people for their ID's.  That's beyond the pale.  You can use whatever name you'd like at Seen and no ID required.  Sheesh!!
No search crawlers.  We're blocking those critters because once they crawl a page, whatever you posted is theirs forever.  We think you should be able to delete things if you make a mistake.  We know this will hurt the traffic, but we think you'll appreciate this.
We don't sell your data, in fact we don't even collect it (other than your email so you can receive notifications).  It's hosted in Iceland and selling data isn't allowed there.  A very good reason to go visit Iceland.  A lot of very friendly people there, too.
No limit to your account's friends.  If you're popular enough to get over 5,000 friends, we think that's great!  More power to you!
Private and secure chat rooms are coming soon!  It looks like we might be able to get private chat rooms on Seen in a couple of weeks, too.  These are strongly encrypted and there's no snooping.