North Dakota: $200M, 20,000-barrel-a-day Oil Refinery Could get Green Light
By Kevin Bonham, Forum News Service
DEVILS LAKE, N.D. – A $200 million, 20,000-barrel-a-day clean fuels oil refinery could be operating near Devils Lake within three years.
The refinery, similar to one being built in Dickinson, would employ about 100 people and could create as many as 400 spin-off jobs in the area, according to Rachel Lindstrom, executive director of Forward Devils Lake, the region's economic development agency.
"It's very exciting for Devils Lake," she said, "a great opportunity."
Devils Lake City Commission approved a letter of support for the project this week.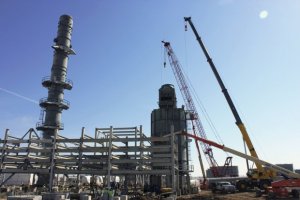 The refinery is being proposed by Eagles Ledge Energy Ltd., based in Vancouver, B.C., which is working with Triad Engineering Ltd, of Calgary, Alberta.
If approved, the refinery would be built just northwest of Devils Lake, adjacent to the Devils Lake Industrial Park. Developers have an offer pending to purchase 300 acres of land, according to Lindstrom. The company would also build its own railroad spur from nearby tracks.
If approved, the refinery could be operating as early as 2017.
It would produce off-road diesel fuel, which is used in farm and construction equipment, as well as a variety of other products.
"Ideally, they'd like to keep the product close. We'd like to see the diesel kept here, to keep costs down," Lindstrom said.
The refinery, which would operate on natural gas, would be located near an existing MDU Resources natural gas line.
The refinery would bring in crude oil from the Bakken Formation by rail or truck, with the finished products being trucked to their destinations.