Hawaii's Kilauea Volcano Lava Flow Nears Pāhoa Properties
Scientists of the USGS Hawaiian Volcano Observatory conducted ground observations of the June 27th lava flow on Tuesday, October 28, 2014. The flow continued to move through private property today. The advance rate of the narrow leading edge has been variable over the past day, and as high as 16 meters (17 yards) per hour. The flow width was less than about 50 meters (55 yards) at the leading edge and as wide as 150 meters (165 yards) immediately upslope as breakouts have occurred along margins of the flow. Portions of the flow continued to inflate by as much as 2 meters as new fresh new lava was delivered to the advancing flow front.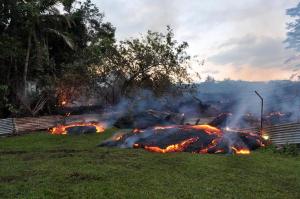 As of 5:30 PM, the flow was 310 meters (340 yards) in a straight line distance from Pāhoa Village Road and about 900 meters (985 yards) in a straight-line distance from Highway 130.
The lava lobe upslope of Apa`a Street advanced about 30 meters (82 yards) since yesterday.
Daily updates about Kīlauea's ongoing eruptions, recent images and videos of summit and East Rift Zone volcanic activity, and data about recent earthquakes are posted on the HVO Web site at http://hvo.wr.usgs.gov.
HVO scientists will continue to monitor the flow from the ground overnight and Wednesday; an overflight is scheduled for Wednesday morning, and new maps of the entire June 27th flow will be posted later in the day. A daily update will be posted in the morning, and status reports will be issued as new information becomes available. Updates are posted at http://hvo.wr.usgs.gov/activity/kilaueastatus.php.
Additional Information:
For a definition of volcano alert levels and aviation color codes: http://volcanoes.usgs.gov/activity/alertsystem/index.php
Maps, photos, Webcam views, and other information about Kīlauea Volcano are available at http://volcanoes.usgs.gov/hvo/activity/kilaueastatus.php. A daily update summary is available by phone at (808) 967-8862.
A map with details of earthquakes located within the past two weeks can be found at http://hvo.wr.usgs.gov/seismic/volcweb/earthquakes/
HVO Contact Information: askHVO@usgs.gov
The Hawaiian Volcano Observatory is one of five volcano observatories within the U.S. Geological Survey and is responsible for monitoring volcanoes and earthquakes in Hawaii.
Note: Authorities are preparing to evacuate 900 to 1000 people in the town of Pāhoa.
Photos (Courtesy USGS)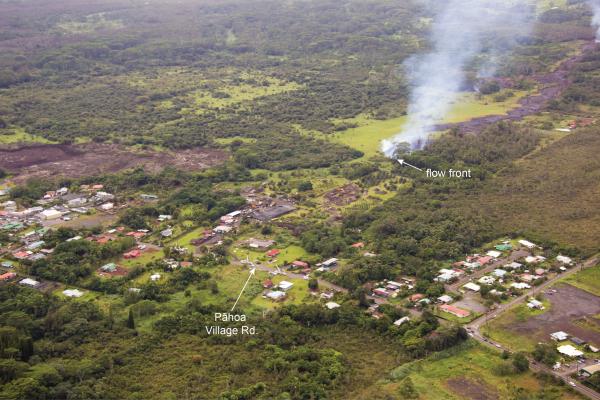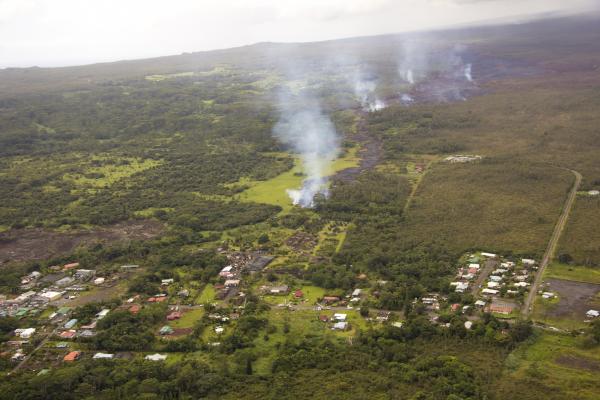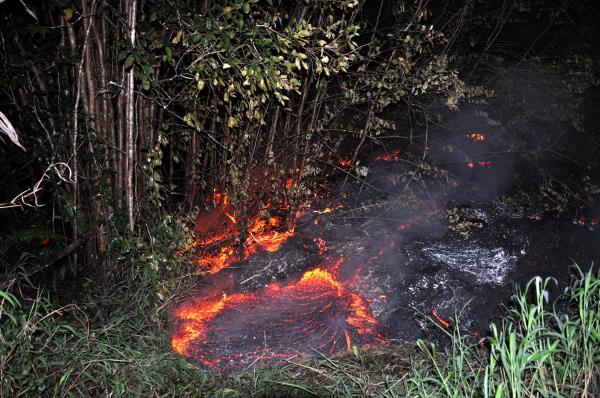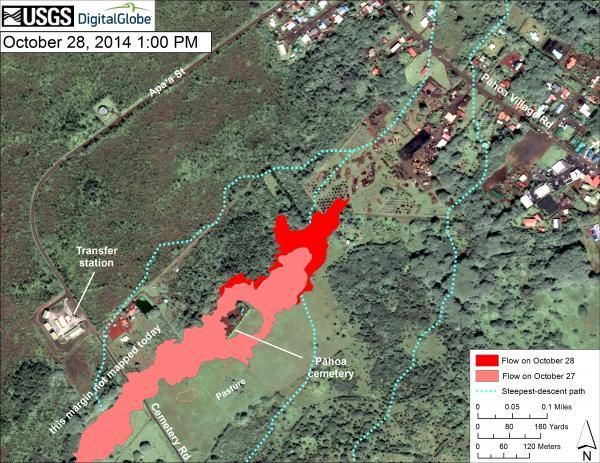 Video Aerial footage: Kilauea volcano lava swallows residential areas of Hawaii