Hawaii Lava Flow: Pahoa Businesses Prepare for Possible Evacuations
By Mileka Lincoln | Hawaii News Now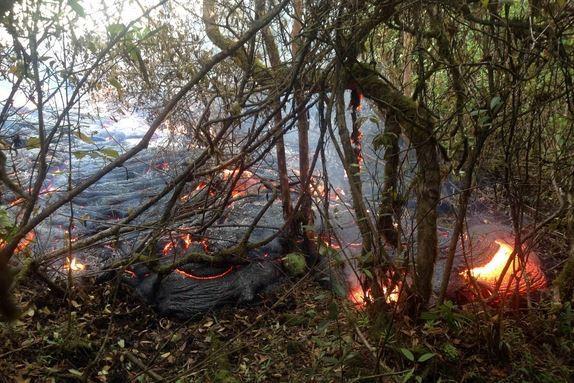 PAHOA, BIG ISLAND (HawaiiNewsNow) – Hawai'i County Civil Defense officials say the Puna lava flow advanced east-northeast another 275 yards since Monday and is now 1 mile upslope from the Highway 130 and Pahoa Village Road intersection.
According to Hawai'i County Civil Defense Director Darryl Oliveira, none of the activity poses any immediate threat to area communities. Officials say the leading edge of the flow front has widened to about 100 to 150 yards wide, but is holding its course along the path of steepest descent that takes it directly toward the Pahoa Marketplace.
Officials say as the flow activity continues to show signs of advancement, businesses in the Pahoa Marketplace may be taking necessary steps to prepare for a possible evacuation. They're asking drivers to be prepared for increased traffic and large vehicles in the area and proceed with caution.
Empty store shelves and cleared out cases inside Malama Market — the largest grocery store in town, which has been open since 2005.
"I love this place because we come over here for shopping and we don't have to go into Hilo," said Clinton Diego.
Lines snaked through the aisles as customers filled their carts in preparation for the store's closure Thursday at 6 p.m.
"I'm hoping that Pahoa will be able to continue on but it's going to be a real difficult transition," said Wendy Hays.
Malama Market in the Pahoa Marketplace will evacuate and close Thursday, December 18 at 6 p.m. The store will begin the process to disassemble and remove equipment Tuesday — according to store officials, who are encouraging customers to shop now through closing. The grocery store, which is the largest serving the community, will be open until 10 p.m. through Wednesday and will close at 6 p.m. on Thursday.
Store officials say they will be establishing satellite locations that can offer key necessities like rice, water, canned and paper goods. Company management says neighboring sister stores Foodland Kea'au, Sack N Save Puainako, and Sack N Save Hilo have also been asked to carry extra product for customers who may turn to those locations to shop.
Outside, customers were anxious to use their gas rewards savings before the station closed at 6 p.m. Tuesday.
"We use the Malama coupons for $5," said Jose Mendoza.
Residents say if the lava passes through Pahoa Marketplace and crosses Highway 130, life as they know it will completely change.
"I was here when Kalapana went out, but losing all of our market? We have nothing now, even if we have to be routed around Crater up to Volcano — it has no pharmacy, no nothing. Now our closest pharmacy if Long's goes — is going to be in Hilo," explained Donna Keefer.
That's exactly why Hawai'i County Civil Defense Director Darrly Oliveira says he's trying to hold off on issuing an official evacuation notice.
"The goal is to support the businesses being operational as long as possible, as long as it's safe to do so. They're providing a variety of goods and services to the community which they depend on. These are some of the larger employers in the community that are providing for jobs for residents in the area," Director Oliveira said.
Lex Brodie's will begin packing up Wednesday.
"We have employees that will be transferred to different locations. As long as they're willing to travel or move to different place, we're going to try our best to keep everyone working," explained store manager Daniel Perreira.
Like other businesses, Perreira says he plans to relocate whatever can be moved to ensure the public's safety.
Officials say it will take about three days for Aloha Petroleum to remove fuel from their underground storage tanks, which will later be filled with water and firefighting foam to suppress the release of vapors.
In a statement provided to Hawaii News Now, officials said: "Of paramount importance is the safety of the station employees, customers and crews that will remove the fuel and equipment; thus, early action will enable a high safety factor."
USGS: Kīlauea Volcano – Puna Lava Flow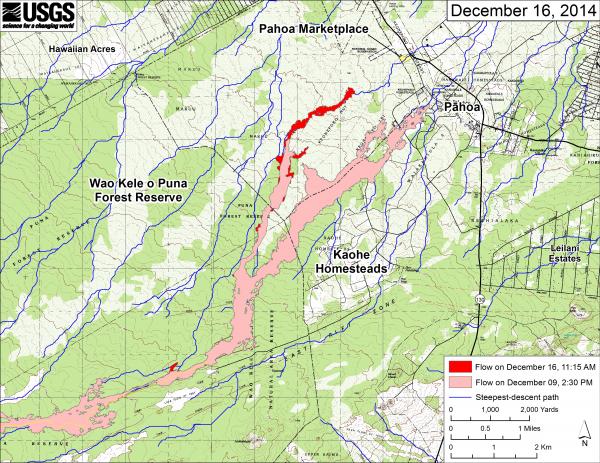 This large-scale map shows the distal part of Kīlauea's active East Rift Zone lava flow in relation to nearby Puna communities. The area of the flow on December 9 at 2:30 PM is shown in pink, while widening and advancement of the flow as mapped on December 16 at 11:15 AM is shown in red.
Most change on the flow field is due to advancement of the relatively narrow lobe of lava continues to advance downslope toward the Pahoa Marketplace. The tip of the flow at the time of mapping was about 1.5 km (0.9 miles) from the upslope edge of the Pahoa Marketplace, as measured along the path of steepest descent that the flow has been following. This particular flow branch, which started from the crack system near the True/Mid-Pacific well site on November 19 (27 days ago), is now 8.0 km (5.0 miles) long. This equates to an average advance rate of 300 m/day (330 yd/day) over that period.
The blue lines show steepest-descent paths calculated from a 1983 digital elevation model (DEM; for calculation details, see http://pubs.usgs.gov/of/2007/1264/). Steepest-descent path analysis is based on the assumption that the DEM perfectly represents the earth's surface. DEMs, however, are not perfect, so the blue lines on this map can be used to infer only approximate flow paths. (see large map)
Amazing Kilauea Volcano: Puna lava flow in Pahoa: close-up view