Worker: They're Covering up How Much Contamination is Flowing into Ocean
By ENENews
Fukushima Worker: They're covering up how much contamination is flowing into ocean — Scientist: We are measuring higher radiation levels off Japan — Plume near California already exceeds expectations, and will keep rising for years to come — TV: "Cleanup can't be done… They lied from the start, Tepco is a den of inequity"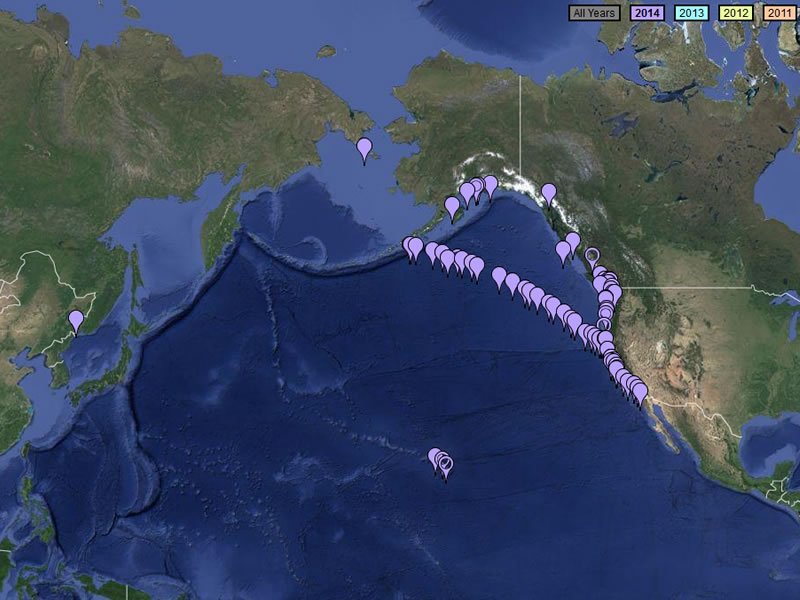 Ken Buesseler, Woods Hole Oceanographic Institution: "My biggest concern is what's going on in Japan today, and how that might… make its way across to our coast… We know it's still leaking because we're measuring higher levels off Japan to this day… Even just the basic question, "How much radioactivity was released at Fukushima?" I can't answer that today. We may never be able to because of the lack of sampling… particularly in the ocean."
Reporter: The models predict cesium levels to increase over the next 2 or 3 years.
Buesseler: "If the levels were higher, we'd be very concerned about what's going on today… We need to be out there making measurements of what happened 3 and a half years ago and how it's being moved across the ocean."
PBS interview with Buesseler: "If we get up to about 7 Bq/m³, that's beyond what I'm actually expecting." Watch here ..
Test results from August 2014 show that just offshore California, radioactive cesium levels have reached nearly 9 Bq/m³ (Cs-137 @ 6.9 Bq/m³; Cs-134 @ 1.7 Bq/m³). As reported above, these levels are predicted to continue to increase for years to come.
Euronews interview with Tepco engineer: "Tepco has lost the trust of the Japanese people. They are covering up how badly the groundwater has been contaminated… When there is a leak into the water around the tanks, they don't have to say anything. The cleanup is far from finished. There is an enormous amount of radiation debris remaining. Tepco said it will take 40 years, I believe it will take far longer." Watch here ..
Euronews interview with Naoto Matsumura, farmer who has remained in evacuation zone: "It's been 3 years now, the situation hasn't changed. After the explosion, nobody knew what to do. Tepco and the government didn't know how to deal with it — yet the world still wants nuclear energy, this is ridiculous… A cleanup can't be done. Tepco lied from the start; Tepco is a den of inequity."